LEX SCRIPTA PROPOSES NEW DRAFT ON AMENDING VOTING SYSTEM
11 may, 2017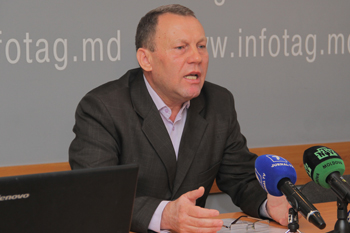 The Lawmaking Institute Lex Scripta proposed a new draft law on changing election system. Its Director Mihai Corj presented the document at the Thursday's news conference at Infotag.
"We propose to preserve the current proportional voting system, but to improve it. Elections should be conducted on open party lists. Citizens, who want to vote for a party, should have such possibility. While those, who are better informed and wants to vote for a specific candidate from a party, should have the opportunity to familiarize with lists at the polling station and vote for the candidate they want. This would be the most democratic procedure", Corj said.
He proposed also, besides a nationwide constituency, to create in Chisinau two more constituencies – for Diaspora representatives and Transnistrian region citizens, in order to give them the possibility to choose their deputies.
"Besides, we propose to lower the election barrier, which is provided in the Election Code now: for independent candidates, – to 1% from 2%; for parties – to 4% from 6%, for blocs made of two parties – to 7% from 9%, for blocs made of three or more parties – to 9% from 11%. This will raise the competition and will give to everyone, including independent candidates, the possibility to fight for MP mandates", Corj said.
He criticized the Democratic Party's draft law on transiting to uninominal voting system.
"This document is bringing us back to the Soviet past. We cannot follow this path if we are talking about aspiration to the European integration. Of course, the legislator has the right to adopt any draft law, but there should be consensus in the society and political class. In this case, we do not have one", the lawyer said.
He cited many arguments concerning the draft's imperfection. In particular, the document does not ensure gender equality observance and violates the law which provides that 40% of MPs should be women. Also, the document implies that electoral districts are formed by the Central Election Commission (CEC), which violates a number of legislative provisions.
"This draft does not correspond with modern requirements, but is bringing us back to the past. I am glad draft authors agreed not to insist on it and postponed it until 2022. As for the draft law on mixed voting system, proposed by the Party of Socialists, public hearings should be organized for it, as the document needs improvement", Corj stressed.