OHM LEADER GRIGORE PETRENCO BRINGING LIBEL PROCEEDINGS AGAINST PARLIAMENT SPEAKER
18 may, 2017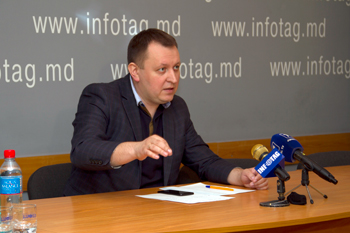 "Our Home is Moldova" (OHM) party leader Grigore Petrenco is starting legal proceedings against Parliament Chairman Andrian Candu, D., and 15 media outlets, controlled by the ruling Democratic Party, "for libel and discrediting my name".
Petrenco explained that after the protest movement had been resumed in Moldova in early May, pro-DP journalists also invigorated their activities in social networks, news portals and on television channels belonging to or/and controlled by country rulers.
"Such pro-DP resources as the Prime television channel of Chisinau, Publika TV and certain known bloggers started disseminating news that Petrenco allegedly met Party of Action and Solidarity (PAS) Chairperson Maia Sandu and negotiated certain plans of certain actions with her. In the opinion of our highly intellectual Mr. Candu, those discussions were about how to seize power in the country, and our meetings were allegedly held at nighttime in the PAS office. What a lie! There was no even a single meeting, the more so at night, and therefore there could not be any discussions. I have never been in the PAS office, and have no idea where it is situated", stated the opposition politician.
Grigore Petrenco is convinced that all these actions by the ruling coalition and personally by Speaker Candu are elements of the general line of discrediting the protesting, its leaders and supporters from broad population masses.
"Recollect how criminal lawsuits used to be milled at the end of 2014 shortly before the parliamentary election, when our vigilant law enforcers detained the members of the Antifa [anti-fascist] youth organization. They were accused of preparing an armed coup d'etat. The prosecution even found what they classified as "extremist literature" – a usual army textbook on using small arms, a manual on using household Panasonic electronic equipment, and even a sheet of a Moscow newspaper. By now, 2.5 years later, the Antifa case has mysteriously lost much of its material evidence stock such as firearms. Also, the young people are now being charged not of a coup d'etat but of "preparing mass riots". The lawsuit is tumbling down with each court session, which is obvious to all the people involved, but it would not be closed down", said Grigore Petrenco.
He is convinced that now, after a period of repose, the authorities are again trying to use their time-tested method – to pour dirt upon the opposition "and then we will see what to do next".
"When the said media outlets were casting reports like, "Grigore Petrenco, the leader of the extremist movement Antifa, held a secret meeting with Maia Sandu last night", I did not receive a single call from a single journalist, though it is well known that impartial, independent press workers are supposed to contact the other side concerned and ask if a report was true or not. This is an obvious violation of the journalist ethics, so I request the Press Council of Moldova to give its analysis and assessment of such 'democratic professionalism'", said the OHM leader.
Grigore Petrenco, who is a Member of the previous Moldovan Parliament and an ex-Deputy Chairman of the Unified European Left group in the Parliamentary Assembly of the Council of Europe, has promised to bring the authorities' practice of discrediting of political opponents to the knowledge of international organizations, including the Council of Europe.