SIX MOLDOVAN UNIVERSITIES TO LAUNCH EXPERIMENTAL CURRICULUMS
29 may, 2017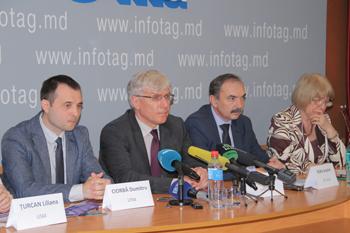 Starting from the new academic year (September 1), six Moldovan universities will launch experimental curriculums on the basis of problem resolution: the raising of students' competitiveness and their employment.

Project coordinator in Moldova Larisa Bugaian said at the Monday's news conference at Infotag that the training programs are using innovation methods, based on resolving of problems.

"The programs were developed by university lecturers who are participating in the program – from the Academy of Economic Studies of Moldova, Moldova State University, Moldova Technical University, State University of Medicine and Pharmacy, Balti State University, Cahul State University", she said.

The project coordinator Romeo Turcan said that in 2015-2016 the number of students in Moldova fell 8% per institution, which is partially due to the decline in the country's population.

"If we divide the existing number of students in all country's universities, we get a correlation of 1 thousand students per institution. Thus, the new teaching system is aimed at making the education more attractive", he explained.

Turcan said that each university, which participates in the project will get 30 places each for a period of a semester in one of European partner universities – Aalborg University (Denmark), Gloucestershire University (Great Britain), Siegen University (Germany) and the Royal Institute of Technology (Sweden).

According to USCH rector Andrei Popa, the education program is compiled in a way to substitute the classic system lecture-seminar for a more practical one.

"A group of students will be divided into several teams, which will be engaged in implementing a project for achieving the set goal. In this system, the role of teacher will change, he will become a mentor of the team and will have to provide help to the team at goal fulfilling", the rector explained.

According to the University of Medicine President Mihail Gavriliuc, he fears that students, who will go studying in European universities, will not want to come back to Moldova. Thus the local program of education should provide to the youth knowledge for simplifying the consequent employment.

Infotag's dossier: The project budget is 1.5 million euros, provided by the European Union within the Erasmus+ program of student exchange.