CHISINAU TO HOST NEW MUSIC FESTIVAL
30 may, 2017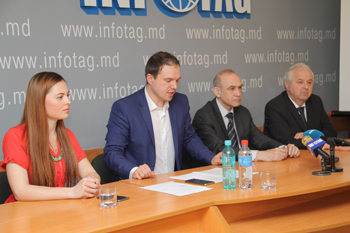 The New Music Days will be held in Chisinau for the 26th time on June 6 through 17. The festival was organized by the Union of Composers and Musicians of Moldova. Modern compositions of Moldovan, Romanian, Spanish, Belarusian and Russian composers will be performed at the event.

Chairman of the Union of Composers Ghennadie Ciobanu said at the Tuesday's news conference at Infotag that the festival is aimed at familiarizing the society and specialists with modern music.

"It reflects our days' problematic and specificity. A cultural state has to develop new, modern art now to be proud of it later", the composer said.

The National Chamber Orchestra and conductor Vladimir Andries will open the festival on June 6 in the National Art Museum. The festival will include six concerts, including 5 symphonic concerts. These will be attended by Romanian composer Dinu Lipatti, Spanish composer Eduard Terol, Romanian pianist Lidia Ciubuc. Also, the festival agenda includes two workshops and a presentation of books, written by Romanian musical activists. The Days of New Music will culminate with an orchestra concert at Radio Moldova on June 17.

Admission to all concerts is free.

Infotag's dossier: The Festival "New Music Days" is traditionally held with the financial support of the Romanian Cultural Institute in Moldova and the Moldovan Culture Ministry. Moldovan authorities allocated 60 thousand lei for its organization.