NEXT MOLDOVAN PARLIAMENT IS LIKELY TO CONSIST OF ONLY 3 PARTIES – OPINION POLL
31 may, 2017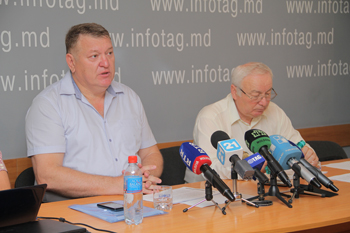 Had a parliamentary election in Moldova been held next Sunday, the new legislative forum would come to consist of the representatives of only three political organizations – the Party of Socialists (PSRM), the Party of Action and Solidarity (PAS) and the Democratic Party (DP), as per the findings of the opinion poll presented in news agency Infotag on Wednesday by the Association of Sociologists and Demographers of Moldova.

The research was carried out on May 20-28. It involved 1,172 adult residents of 79 various-type populated areas across Moldova (except the Transnistrian region). The pollsters are saying that error should not exceed ±3%.

According to the findings, the Party of Socialists would poll 53.1% ballots of determined voters, PAS – 20.6% and the Democratic Party – 9.8%. The question of winning seats in parliament by two more parties is within the size of the statistical error, namely: the DA Platform has received 5.6% and Our Party – 5.1%, with the electoral barrier being 6%.

The population's highest rating of trust is with incumbent President Igor Dodon – 55.6%. Following next are PAS leader Maia Sandu with 21.2%, DA Platform Chairman Andrei Nastase – 4.9%, Our Party leader Renato Usatii – 4.3%, Democratic Party leader Vlad Plahotniuc – 4.1%, Prime Minister Pavel Filip – 2.2%, Parliament Chairman Andrian Candu – 1.6%.

(According to another opinion poll, presented by an American company earlier this month, Igor Dodon's rating of trust was standing at 39% and those of Maia Sandu and Pavel Filip – at 21% each.)

Almost 56% interviewed citizens stated they would necessarily take part in the parliamentary election, 29% said "I would rather go to the polls", and 8% stated they would not go – for sure.

Asked about the country's integration vector, 36% interviewed citizens gave preference to the European Union, 39% – to the Russia-led Eurasian Economic Union, and 24% were uncertain.

ALMOST 80% OF MOLDOVANS REGARD TV AS MAIN SOURCE OF INFORMATION – POLL.

Chisinau, May 31, 2017 (Infotag). Almost 79% of Moldovan people regard the television as the main source of information. After it come Internet – 54%, radio – 32% and printed press – 27%. These are the results of the opinion poll presented at Infotag by the Association of Sociologists and Demographers of Moldova on Wednesday.

According to 64% respondents, TV presents the most trustworthy information, 22% said it is radio, 21% – Internet, 16% - newspapers, 4% of respondents named other sources of information.

Around 40% of respondents said that the population is restricted in access to information, while 8% – that there is no access at all. 16% said that the information is rather accessible, while 30% – that it is more than accessible.

Asked about the access of political parties and candidates to the media, around 68% of respondents said that some have greater access than others and only 15% that the possibility of access is equal.

Almost 54% respondents maintain that the media should somehow participate in civil education of electors, 19% – that it should actively participate, 14% – should not.

At the question about media's influence on election results 41% said it influences, 25% – not so much, 20% – a lot, 5% – does not influence.