ONLY TWO PARTIES HAVE REAL CHANCES TO GET TO NEW PARLIAMENT - OPINION POLL
14 june, 2017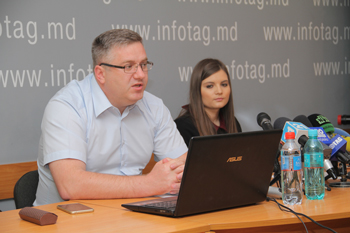 If a parliamentary election were held in Moldova next Sunday, only two organizations would win seats in the new legislative forum for sure - the Party of Socialists (PSRM) and the Party of Action and Solidarity (PAS), as per the findings of the opinion poll carried out recently by the Public Opinion Foundation on the request of the Poliexpert consulting agency.

According to the research results presented in news agency Infotag on Tuesday, the Party of Socialists would poll 52.2% ballots of the voters who have already made up their mind, and PAS would win 28.9%.

Theoretically, with an account of the poll error, two more organizations have chances to get to the new Parliament - the political party called Platform Demnitate si Adevar [DA, "Dignity and Justice"] with 5.1% and the Democratic Party (4.6%).

Poliexpert representatives stressed that they conducted their research in a "calm period" i.e. far away from any election campaigns, so their findings may differ from past election results. Thus, Our Party was supported by 3.6% respondents, the Communist Party - by 2.9%, the Liberal Party - 1.3%, the European People's Party of Moldova (EPPM) - 1.1%, the Liberal Democratic Party - 0.4%.

33.3% interviewed citizens stated categorically they would not vote for the Democratic Party under whatever conditions, 22.6% would not vote for the Liberal Party, 10.5% would never vote for the Party of Socialists, 6.6% - for PAS, 5.4% for Our Party, and 4.4% would never vote for the Communist Party.

In the rating of citizens' trust, President Igor Dodon maintains lead with 38.8%, followed by PAS leader Maia Sandu - 17.3%, Prime Minister Pavel Filip - 3.7%, DA Platform leader Andrei Nastase - 2.1%, Our Party leader Renato Usatii - 1.4%, and Chisinau Mayor Dorin Chirtoaca - 1.1%.

And 27.4% respondents stated they do not trust anybody from among modern Moldovan politicians.

The poll was carried out on May 26 through June 5, involving 1,799 adult residents of various-type populated areas across the republic. The pollsters are saying that error should not exceed В±2.3%. Infotag's dossier: Founded in 2012, the Public Opinion Foundation is a sociological company uniting sociologists, psychologists, communication specialists etc.