EUROPEAN PARLIAMENTARIANS COMING TO MOLDOVA TO MEET WITH ILAN SHOR
16 june, 2017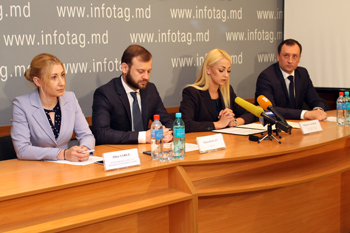 A delegation of Members of the European Parliament will come to Moldova presumably in July to hold a personal meeting with prominent Moldovan man of business and the Mayor of Orhei town Ilan Shor and to discuss the human-right situation in the country, Marina Tauber, Deputy Chairperson of the Shor Party, said at a news conference at Infotag on Friday.

She explained that such an accord was reached with a number of European parliamentarians during the recent visit paid to Strasbourg by Party representatives and lawyers who attended a roundtable conference on human rights held there.

"Unfortunately, we would not be heard in Moldova. But the argumentation, which we presented to European deputies, convinced them that the Ilan Shor case needs understanding from behalf of Moldova's European development partners. MEP Lorenzo Fontana, for instance, stated readiness to come to Chisinau at the beginning of July to scrutinize the situation around the Orhei Mayor's arrest and to study possibilities for inter-party cooperation", said Tauber.

According to her, the arguments presented by the Shor Party representatives caused a painful reaction of Elizabetta Gardini, Deputy Chairperson of the European People's Party, who is also Deputy Chairperson of the Forza Italia party.

"She requested full information about the Shor case and assured that together with colleagues from her party and from European Parliament she will take the situation under her control", said Marina Tauber.

Tauber also read out the official address sent to Chisinau by MEP Jean-Luc Schauffhauser, who called the Moldovan authorities to abide by the national legislation and ensure a fair trial with a due account of the presumption of innocence.

Ilan Shor's lawyers said that they discussed with the European parliamentarians three possible scenarios of the development of events: (1) Shor is released from under arrest after June 22; (2) his arrest is extended with a violation of the law; and (3) verdict to Shor is announced before June 22, which will also mean a violation of his right to a fair trial.

Infotag's dossier: According to the law, a defendant may not stay under arrest for longer than one year from the detention date. Businessman and Balti Mayor Ilan Shor was detained on June 22, 2016, and spent 6 weeks in a remand prison. On August 5, the Chisinau Appeals Court changed the measure of restraint for him and placed Ilan Shor under a house arrest.