LEX SCRIPTA DEMANDS CONSIDERATION OF ALTERNATIVE BILL ON VOTING SYSTEM CHANGING
29 june, 2017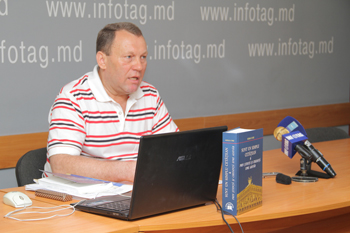 The Lex Scripta Institute of Lawmaking demands to consider an alternative draft law on changing the election system, proposed in early May. An open letter to the authorities with demands and arguments was presented by Institute Chairman Mihai Corj at the Thursday's news conference at Infotag.

He said that the letter will be sent to President Igor Dodon, Speaker of the Parliament Andrian Candu, Prime Minister Pavel Filip and Central Election Commission (CEC) Chairwoman Alina Russu, as well as to Chairman of the ruling Democratic Party Vladimir Plahotniuc, "who, whatever someone likes it or not, is ruling coalition coordinator".

According to the lawyer, if authorities want to avoid massive protests, they should adopt the draft, proposed by the civil society, but not by the ruling or oppositional parties.

"If authorities really want to demonstrate they are set to resolving the problem with election system, they will consider our draft law", Corj said.

According to him, for rehabilitating of democracy in the country, chances of independent candidates to get into the Parliament should be raised, which means lowering the election threshold to 1% or its replacement with an election coefficient lower than 1%.

"Also, the barrier for the rest of parties should be lowered: for parties – to 4% from 6%, for two-party blocs – to 7% from 9%, for blocs of three and more parties – to 9% from 11%", he said.

The expert said that the draft implies the changing of ballot paper, in which an additional line will be added where the voter may write the name of the candidate he likes from one or another party. In this way, citizens will be given the opportunity to vote for a concrete person.