ONLY FOUR PARTIES HAVE REAL CHANCES OF GETTING TO NEXT PARLIAMENT - OPINION POLL
07 july, 2017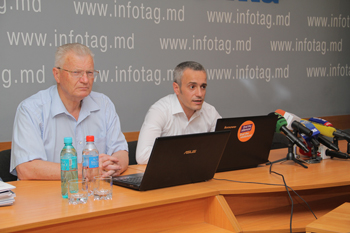 Had a parliamentary election been held in Moldova next Sunday, seats in the legislative forum would be won only by the Party of Socialists (PSRM), the Party of Action and Solidarity (PAS), the Democratic Party (DP) and the political party called Platform Demnitate si Adevar [DA, "Dignity and Justice"], or DA Platform, as per the results of the opinion poll carried out by the CBS-AXA Center for Sociological Researches and Marketing.

According to the research results presented in Infotag on Thursday, the PSRM would poll 50.2% ballots, PAS - 22.8%, DP and DA Platform - 7.1% each.

The probability of getting to the new parliament by Our Party and the Communist Party (MCP) is within the poll's statistical error, namely Our Party can count on 4.5% and MCP - 3.7%, with the electoral barrier being 6%.

Under no circumstances would 40.7% respondents vote for the Liberal Party, 38.4% - for the Democratic Party, 26.7% - for the Communist Party, 23.2% - for the European People's Party of Moldova (EPPM), 23.1% - for Our Party, and 22.9% would never vote for the Liberal Democratic Party.

Had an election been held next Sunday, the voter turnout would be over 70%. Namely, 49.4% would go to the polls "absolutely definitely", 20.7% - definitely, 10.6% - possibly. At the last parliamentary election held on November 30, 2014 the voter turnout was 57.3%.

In the rating of popular trust, the leader is the Party of Socialists that is trusted by 34.9% citizens. Following next are the PAS - 22.1%, DA Platform - 15.2%, Our Party - 10.4%,

Among politicians, the highest trust rating is with President Igor Dodon - 23.5%, followed by PAS leader Maia Sandu - 7.9%, Prime Minister Pavel Filip - 3.3%, and DA leader Andrei Nastase - 2.9%.

38.5% respondents stand for preserving the current - proportional representation system, 30.3% - for the mixed electoral system, and 18.5% - for the one-mandate system.

The research was carried out on June 20 through 30 among 1,164 Moldova citizens eligible to vote, who reside in various-type localities in 13-of-34 Moldovan raions. The pollsters are saying that error should not exceed В±2.8%.