ORGANIZATIONS FOR THE PROTECTION OF ANIMALS CALL FOR HELP
14 july, 2017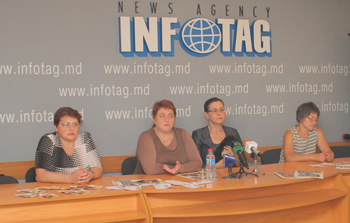 The organizations for the protection of animals called on Moldovans to help in getting rid of animosity.

On Thursday, the chairperson of the ALGA Association Valentina Dudnic said at a press conference at Infotag that homeless animals also have the right to live.

According to her, "The dogs caught on Chisinau streets are killed in the cruelest way".

"The most insulting thing is that organizations for their eradication, including the municipal enterprise Autosalubritate, do this quite legally. It is necessary to stop this chaos and demand the punishment for the murderers", she emphasized.

Director of the Chisinau Shelter for Homeless Animals Galina Cigir reported that among their pets there are 300 dogs and 60 cats, while there is no help from the state, all the activists make their own contributions.

If you go on an excursion to the bodies that are allegedly engaged in the sterilization of the stray dogs, it is easy to guess that all the money for sterilization goes to their pockets. Even if the dog is sterilized, it is still killed. Therefore, we appeal to everybody who believes that every living being has the right to life, to promote the ban of malevolence in the Republic of Moldova", she stressed.

Infotag's dossier: In early 2016, the Chisinau City Hall allocated 300 thousand lei for the project of free sterilization of animals, proposed by the social movement "Humane Community" (Societatea Umana). Such initiatives have long gained popularity in Western countries and are annually held by the city authorities that helps humane methods to prevent uncontrolled reproduction of animals and, as a result, their appearance on the streets of the city.