MOLDOVAN WOMAN DEMANDS AUTHORITIES TO ISOLATE HER HUSBAND SUSPECTED OF RAPING THEIR DAUGHTER
11 september, 2017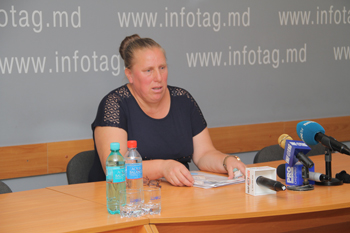 Moldovan woman Galina Bostanica demands from country authorities to isolate Ion Bostanica, whom she is in the process of divorcing and who is suspected of raping their daughter. She also expressed her indignation about the decision of the Appeals Chamber on releasing the man from under arrest.

Bostanica said at the Monday's news conference at Infotag that her husband was before convicted for theft and murder. When he was convicted, his family moved with him into a colony-settlement, where he abused the girl for the first time in 2002. Now, their daughter is 22, also they have a 14-year-old son.

According to her, raping continued after his release from the colony. Over all this time the woman was working in Ukraine, after that – in Israel and Italy.

"In one of days, when I had to go to the airport to buy ticket to Italy, my daughter burst in tears and asked not to leave her and her brother alone with their father. Before, she many times asked me not to go abroad, but refused to tell me why. This time, we went out of the house and she told me what is happening to her", Bostanica said.

She said that on April 26, she and her daughter submitted a complaint to police. Soon, her husband was detained. In a discussion with psychologist, Bostanica's son told that he many times witnessed the raping of his sister, but never told to his mother as he was afraid of his father.

"On unclear reasons, the Appeals Chamber released my husband. When a person steals a hen, he is put in prison, while when the man who was murdering and stealing, is accused of raping a child, he is released", she stated indignantly.

According to Galina Bostanica, she is afraid for lives and health of her children, as her husband is at large for already two months and is living in the same village with them, while the restraining order, issued by court, is unable to protect them from reprisals.