TRANSNISTRIAN REFUGEES SAY NEW ACCUSATIONS AGAINST CHIRTOACA ARE CORRECT
12 september, 2017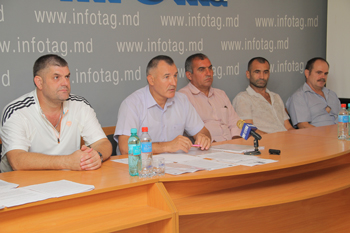 New accusations against Chisinau Mayor Dorin Chirtoaca, suspended from post, are fair, while by means of accusing Transnistrian conflict veterans of provoking the initiation of a criminal case he just attempts to manipulate public opinion, maintain representatives of Transnistrian refugees.

Representative of Transnistrian Refugee Movement, lawyer Anatol Bizgu said at the Tuesday's news conference at Infotag that the Chisinau Primaria [city government] leadership was engaged in dubious schemes at fulfilling reconciliatory transactions, according to which municipal authorities should provide housing to socially vulnerable citizens.

"The problem is that the reconciliatory transactions were fulfilled selectively. As response to many requests to present the criteria of selecting candidates on getting housing, the Primaria avoided giving direct answers, citing personal data protection", he explained.

Former police officer, pensioner Oleg Spiridon said that to all the inquiries about reasons of delay in providing housing, primaria was answering that there are no necessary funds.

"In 2012, 24 people were provided with housing on the bases of the reconciliatory agreement. At first glance everything seemed legal, until we got copies of documents in which it is said that many of these people signed these agreements in 2011. I, for example, signed such agreement in 2008 and still received no due housing so far. At the same time, some apartment beneficiaries are younger than me and have lived in this world less time than I stay in this queue", he said with indignation.

According to veterans and refugees, the selectivity in fulfillment of agreements is explained by corruption in Primaria and banal kickbacks, thus the new criminal case against city mayor is well-grounded, while his tears are tears of a thief.

Infotag's dossier: The new criminal case against Dorin Chirtoaca was initiated in connection with suspicions of abuse of power at providing housing and causing damage to the municipal budget totaling 66 million lei. Chirtoaca wrote on his page in social networks that refugees from Transnistria blocked the work of the primaria.