ZEPPELIN PROJECT INVESTIGATION IS AIMED AT PRESSING ON INTERPOL – LAWYERS
14 september, 2017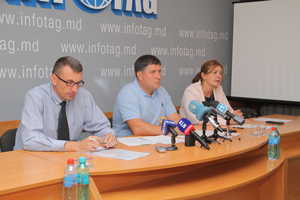 The documentary film of the Zeppelin Project, which features how Our Party (OP) Chairman Renato Usatii allegedly participated in the attempted murder of banker German Gorbuntsov, is aimed solely at putting pressure on investigation agencies in Great Britain and Romania as well as on the Interpol, which is preparing to cross out Renato Usatii from the list of internationally wanted persons in October 2017, maintain the opposition politician's defenders.

Lawyer Angela Istrate said at a news conference in Infotag on Wednesday that last few weeks the Moldovan mass media started publishing particularly much offensive information blackening the OP leader in order to keep him possibly farther from Moldova and from its political live and, in his absence, to continue the shattering and ruining of his party.

"It is noteworthy that in the countries where investigations into the attempted assassination of German Gorbuntsov are under way, there are no criminal litigations started against Renato Usatii, and nobody seems to be going to start them", said lawyer Istrate.

She explained that the British Scotland Yard started in 2012 a criminal lawsuit on the attempted assassination of Gorbuntsov. Despite that investigation, the Moldovan authorities started their own, separate investigation in 2016.

"This is just ridiculous because the case investigation files contain no application from Gorbuntsov by which he would request to start such litigation. Moreover, that lawsuit was launched on the personal initiative of the prosecutor who was investigating a major fraud case. Moldovan investigators were forced to embark on the assassination case without having whatever material evidence on hands – weapons, medical conclusion or anything, because all such evidence items are in Great Britain", said Istrate.