POLICE TRADE UNION CALLS ON PROTESTERS TO ABIDE BY THE LAW
18 september, 2017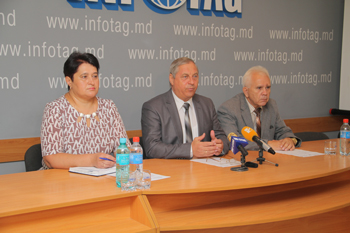 Trade union of law enforcement officers "Demnitate" [Dignity] has again called on citizens and political leaders to abide by the law during protest actions and to respect police officers.

Trade union chairman Mihai Lascu said at the Monday's news conference at Infotag that the September 17 protest action in Chisinau, announced by the opposition as peaceful, unfortunately led to violence. During the rally in front of the Moldova-1 public television office the protesters tried to break up through the police cordon on a minibus. As a result, two police officers were injured. One more officer was hit at his head and was hospitalized.

"Citizens should respect those, who are doing their duty – ensuring public order and protecting them. The police are outside the politics and such provocations and direct aggression against officers is unacceptable", Lascu said.

"Demnitate" general secretary Angela Otean said that by means of such behavior, protesters demonstrate their incapacity and disrespect to the state and its institutions.

Deputy Chairman of trade unions Alexandru Gobjila said that those guilty of provocations should respond to the law. The trade union will be supporting close contact with all the media companies in order that the society to know each detail of the incident investigation.

The declaration, published by the trade union, expresses indignation about violence in relation to police officers. He called on competent authorities to criminally punish everyone responsible for the happening.