USATII'S LAWYERS DEMAND FAIR INVESTIGATION OF ATTEMPTED MURDER OF RUSSIAN BANKER
09 november, 2017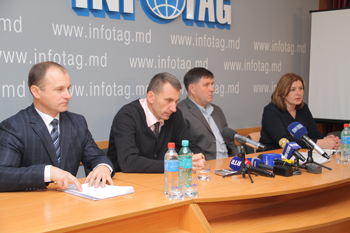 Chisinau, November 8 ( INFOTAG ). The lawyers of Renato Usatii, leader of the Partidul Nostru, [Our Party, OP] and Mayor of the country's second largest city of Balti, are demanding from Moldovan Prosecutor General Eduard Harunjen an unbiased and in-depth investigation of the attempted assassination of fugitive Russian banker and financier Gherman Gorbuntsov. The lawyers categorically dispel Usatii's whatever involvement in or relation to this crime.

Lawyer Anatol Istrate stated at a news conference in Infotag on Wednesday that in the litigation against the opposition Moldovan politician, his opponents in the person of authorities' representatives are using the most unscrupulous and dirtiest methods. "The entire republic was shocked with the interview of Moldovan criminal Vitalie Proca, who stated on the Moldovan television on November 2 that the assassination of Gherman Gorbuntsov was ordered not by Renato Usatii [as many in Moldova are trying to prove] but by another person. To bring this person to responsibility, it is necessary to start a separate litigation and criminal investigation as is demanded by Articles 2, 7, 19 and 19 of the Code of Criminal Procedure and by the Constitution. However, nobody would do this here until now, though in another similar situation that happened one year ago, when banker Gherman Gorbuntsov gave an interview on the Skype, a criminal litigation was started immediately", said Istrate.

He believes that Harunjen's refusal to start a lawsuit on the basis of Proca's statements, for instance that it was precisely Vlad Plahotniuc who ordered to him the assassination of Gherman Gorbuntsov, is a convincing evidence that justice in Moldova is used selectively - as the authorities order.

Istrate accused prosecutors Vitalie Busuioc and Lilian Bacalim of violating the legislation in force - in what concerns the presumption of innocence and the dissemination of slanderous information.

"Yet two days before the Proca's announced television interview, the prosecutors stated at a news conference that Usatii was the customer of the Gorbuntsov murder order. Moreover, they made public a part of confidential investigation documents. They have thus breached the Moldovan Constitution and European legal acts stipulating that no person may be recognized as guilty otherwise but by decision of the court. So, these prosecutors have committed a grossest violation of the law. In the assassination scheme made public, Vitalie Proca is mentioned as the killer. But the customer of that murder could be any other person. The prosecutors are insisting that it could be only Renato Usatii. But how about the court's exceptional privilege to decide about guilty persons? The prosecutors interfere into where they may not", believes the lawyer.

Istrate reaffirmed that Renato Usatii had been interrogated by Bucharest Tribunal Judges as a witness on the Gherman Gorbuntsov case.

"I have no right to disclose details of his evidence or how he produced it. This is secrecy of investigation. I want only to confirm that Vitalie Proca, too, has agreed to collaborate with the competent agencies of Romania. The investigation agencies of Great Britain and Romania are conducting their own investigations into the case of Russian banker Gorbuntsov, but they do not wish to have anything to do with the Moldovan law-enforcement, being aware of the quality and manner of work by Moldovan investigators", said the lawyer.

On behalf of Usatii's defense team, Istrate demanded from Eduard Harunjen to dismiss prosecutors Vitalie Busuioc and Lilian Bacalim from the Gorbuntsov case investigation.

"In our opinion, Prosecutor General Harunjen must appoint a new investigation team consisting of real professionals as well as to change the measures of restraint for all involved in the case", said Istrate.

Infotag's dossier: Last Thursday, Vitalie Proca gave an interview to a Moldovan television channel and called Vlad Plahotniuc the customer who had made an order for the assassination of Russian fugitive banker Gherman Gorbuntsov. Since 2012, Gorbuntsov has been in London, hiding from his former business partners, whom he reportedly owes up to $300 million. In March 2012, Proca made 9 pistol shots at Gorbuntsov, but most of the bullets flew past the mark. Gorbuntsov was hospitalized, operated, and he survived. In 2016, Vitalie Proca was sentenced in Romania to 21 years in jail for various crimes. Gorbuntsov has repeatedly stated that his assassination was ordered by Renato Usatii, his former partner in a banking business. Usatii is denying this.