INFOINVEST EXHIBITION TO PRESENT OVER 400 INNOVATIVE PROJECTS
09 november, 2017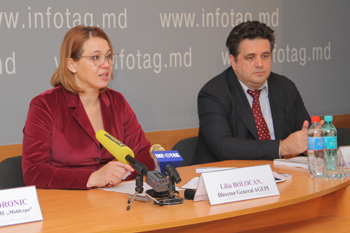 The exhibition of innovative technologies "Infoinvest" will be held for the 15th time on November 15-18 in Chisinau.

At the Thursday's news conference at Infotag, State Agency on Intellectual Property (AGEPI) General Director Lilia Bolocan said that around 100 organizations from more than a dozen of world countries, including the Czech Republic, Croatia, South Korea, Taiwan, Indonesia. Participants will present over 400 various projects: starting from eco-friendly packaging for dairy products and systems of banknote sterilization to developments in the field of robotics and medicine.

According to her, an international conference "Intellectual Property - Innovations - Quality of Life" will take place within the exhibition. It is organized with the support of European partners and World Intellectual Property Organization. The invited experts will conduct workshops on using vegetable fibers, implementing innovative products in conditions of modern market and seeking the source of financing.

"Within the exhibition, the awarding ceremony will be held for best participants. Author of the most interesting project will get the title "Best inventor" and a premium from the Moldovan Government; also AGEPI medals and diplomas will be awarded", Bolocan said.

Director of the Agency for Innovation and Technology Transfer (AITT) Roman Chirca said that technological progress changes the entire world society incredibly fast. Traditional production methods are gradually going away in the past - the gasoline engine gives way to electric engine, the industrial and agricultural production is becoming increasingly automated.

"Thus, the conducting of such exhibitions is very important for Moldova and the Moldovan society. The event will help strengthening cooperation between the business environment, scientific community and inventors. In the new age, Moldova has to dynamically develop in the field of advanced technologies, while for this we have to transit from a society of consumption to a society of idea cultivators", Chirca said.

The exhibition is organized by the AGEPI with the support of the Moldovan Academy of Sciences, the Agency for Innovation and Technology Transfer and the European Patent Organization. The event will take place in the territory of the MoldExpo International Center.