SOCIAL PROJECT FOR SUPPORTING CHILDREN WITH LEUKEMIA TO BE LAUNCHED IN MOLDOVA
21 november, 2017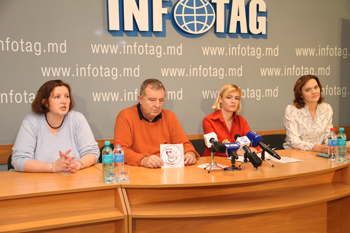 The new charitable project "Kindness Menu" is aimed at uniting restaurateurs and visitors of public catering institutions in the desire to support children with leukemia.

Representative of public organization "Life without Leukemia" Ludmila Samardac said at the Tuesday's news conference at Infotag that the treatment of this disease is a very costly and long process. There are 25 children in the children's hematological department Chisinau Cancer Institute, who need moral and financial assistance.

"This project is directed to support these children and we call on all the interested restaurateurs to introduce in menus of their restaurants a dish with a name that includes the word "kindness", for example "Kindness Salad" or "Kindness pizza". A part of the money received for these will be transferred to the organization's fund for supporting the ill children", she said.

Restaurateur Alexander Stukalov said that in the menu of his cafe "Stukalov Coffe" there is already such a drink – "Kindness coffee". One-third of its cost is transferred to support this project.

The organization representative Elena Ermolaeva said that the project implementation will help returning to many children hope and smile on their faces.