CIVIL ACTIVISTS CALL ON EDUCATION MINISTER TO PAY ATTENTION TO PROBLEMS IN STEFAN VODA RAION
21 february, 2018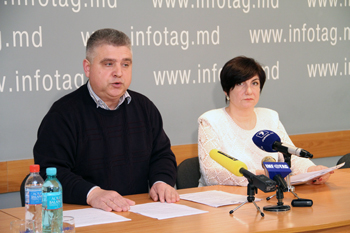 Stefan Voda raion civil activists invited Minister of Education, Culture and Research Monica Babuc to visit the raion to discuss with parents and pedagogues numerous problems in the raion educational system.

At the Tuesday's news conference at Infotag, school inspector Simion Zadorojnii pointed at the abuse of power from the side of Stefan Voda Education Department Director, violation of laws and unapproved firing of employees.

"Raisa Budruja is illegally dismissing retirement-age employees, is conducting shadow contests on hiring workers and does not pay dismissal wages to those fired. Multiple violations in the Department are covered and supported by Raion Chairman Nicolae Molozea of Democratic Party", Zadorojnii said, adding that Budruja herself is illegally holding the post, as she has retired already more than 7 years ago.

According to activist Olga Ceapchi, the education department is not interested in quality teaching of children.

"Parents are concerned about the future of Grigore Vieru Primary School and Stefan Voda Lyceum due to shortage of pedagogues and local authorities' ignorance. The primary school is attended by around 300 children, who remained without English teachers. The department knows about this problem since May 2017, but it has not been resolved so far, while children do not have English lessons. Parents also maintain that the curriculum is overloaded and are discontented with the quality of children education", Ceapchi said.