MOLDOVA'S ECONOMIC POLICY MUST NOT DEPEND ON RUSSIAN ELECTION RESULTS - DOUBLE CASE EXPERTS
15 march, 2018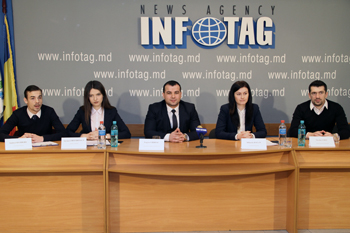 The Republic of Moldova's economic policy must not depend on the results of the March 18 presidential election in Russia. Such is one of the main conclusions of the analytical research carried out by the experts of the Double Case consulting company, who studied the influence of the said election on the exchange rate of the Russian ruble currency and on the Republic of Moldova's economy.

Financial markets expert Nicolae Ursu said at a news conference in Infotag that the Russian Government has a long-term country development program, which permits to compose a forecast of the development of cooperation with Russian partners for several years ahead.

In his opinion, should power change in Russia, there is a high probability of a complete change of relations with neighbor countries, but Moldova should focus on its internal development so as to minimize the influence of the forthcoming election.

"One should not expect that the coming of a concrete candidate into power can resolve the problems of citizens, including the citizens of neighbor countries. Russia concentrates on its own national interests, and not on the interests of its neighbors", presumes the Moldovan expert.

Double Case consultant Mihaela Balan said that in a short-term perspective, the Russian presidential election results should not tell seriously on the Moldovan leu currency.

"The Russian ruble has been depreciating lately because a certain economic instability can be observed during the election campaign period. All this tells negatively on the Moldovan GDP because a considerable proportion of money remittances come to Moldova from the Russian Federation", explained the expert.

Mihaela Balan believes that if incumbent President Vladimir Putin remains in power, Moldova will feel a positive influence of this because the current policy of bettering the bilateral trade will be continued, and the Moldovan national currency will appreciate.