100 SOCIALLY VULNERABLE FAMILIES FROM LEOVA RAION GET FOREIGN ASSISTANCE
22 march, 2018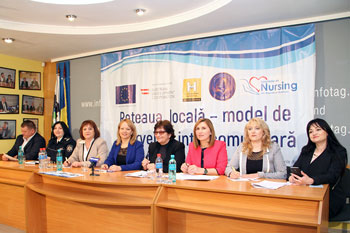 With the support of foreign partners, 100 socially vulnerable families of Leova raion received assistance within the project "Local Network - Model of Interaction Between Communities", implemented by the International Center of Cooperation and Development "Phoenix".

At the Wednesday's news conference at Infotag, Phoenix representatives said that the project was launched 10 months ago within the regional project "Social Workers in Collaboration for Social Change in Eastern Neighborhood Countries", financed by the EU, the Austrian Development Agency in partnership with the Moldova Nurses Association and the Hilfswerk Austria International.

Project Manager Irina Rusanovscaia said that within the project 10 families were selected from each of 10 Leova raion localities for receiving support.

"The project is aimed at raising the level of participation of various local organizations and raising their efficiency in identifying and resolving the problems socially-vulnerable families are facing", she said.

Project representatives said that for achieving goals in the 10 localities, networks will be created to help establishing close cooperation between various organizations, besides, training courses were organized for interdisciplinary territorial groups for raising their members' skills.

They also pointed that in most cases, project participants managed to achieve successful resolving of problems faced by the chosen families.

Social councilor Efrosinia Gretu said that one of the main problems is the ensuring of social protection to children from disadvantaged families, as well as minors, whose parents are working abroad.

"We have to open public centers where out-of-school activities will be organized for such children, where they will be helped in doing their homework and will take meal. In localities there are many buildings that stand idle and are suitable for such centers, but this demands financing", she said.

According to project participant calculations, up to 50 thousand euros will be necessary for opening one center. This money should be provided from the state budget, as the raion funds are not enough.

They also expressed hope that the project will be extended in other Moldova's raions, as socially vulnerable families exist in all republic localities.