COLONITA MAYOR MAINTAINS GHIMPU CLAN CONTINUES USURPATION OF VILLAGE
22 march, 2018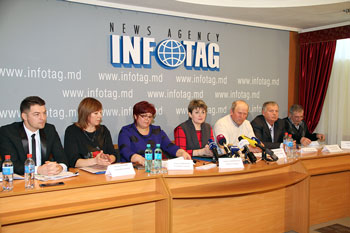 The clan of Mihai Ghimpu [Member of Parliament, Chairman of the Liberal Party] is continuing a barefaced illicit capturing of the Colonita Village, maintains its Mayor Angela Zaporojan.

She said at a news conference in Infotag that currently Ghimpu's relatives are undertaking energetic actions to privatize 5 hectares of land that is in the ownership of the Colonita Primaria [village executive organ].

"After they had heard no from me, they decided to solve the problem in another way - they somehow won the land dispute in a first-instance court, which ruled that the Colonita Mayor must give the public land plot into the relatives' private hands. But I decided to struggle to the end. The dispute went as high as the Chisinau Appeals Court, which recognized the righteousness of my initial decision. But the litigation is continuing until now, and the relatives are thus preventing me, a legitimately elected mayor, from fulfilling my direct duties because instead of solving the numerous problems of the large village [having a population of 3.5 thousand], I have to spend days running to various court instances and other institutions", said Angela Zaporojan.

In her words, pressure on her is put by using other measures - for instance by organizing endless various-profile exhaustive checks at the Primaria, whose number reached 10 last year. "To prove the Ghimpu clan's intentions, I will tell you the story of one of Ghimpu's relatives named Dumitru, a deputy of the Colonita Local Council. With a monthly salary of 2,400 lei [about US$150], he is the owner of 13 hectares of fertile land [in the immediate proximity to Chisinau city], of 5 village houses and of a Toyota cross-country vehicle. How do you think can an honest official afford such a luxury on such a miserable salary?" wondered the Mayor indignantly.

Angela Zaporojan said that due to the actions taken constantly by Ghimpu's relatives, the village has no possibility to accomplish the construction of a kindergarten, which, despite Ghimpu's efforts to privatize the object, is so far remaining in the jurisdiction of the village administration.

Municipal councilor Ion Cheptene stated that he had been repeatedly subjected to various forms of pressure by Ghimpu relatives, who keep repeating that Cheptene must pray to the Liberal Party and worship it for making him a member of the Colonita Council.

"But their unbridled activities have in fact devastated the once prosperous happy village. The Ghimpu clan have attacked Colonita like a ruinous hurricane", stated Cheptene.

Brothers Dumitru and Viorel Ghimpu, who were present at the news conference, energetically refuted all of the heard accusations, and accused Mayor Zaporojan of lies, naming her the main reason of all Colonita problems.