INTERNATIONAL CLASSFEST FESTIVAL OPENS IN CHISINAU ON MONDAY
27 april, 2018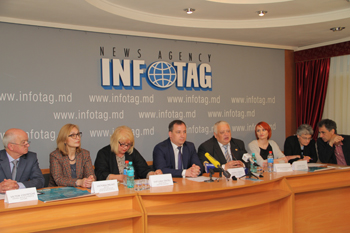 Students from 14 world countries will present their own performances and films in Chisinau theaters within the 8th International Festival of Theater and Film Schools "ClassFest", which will open on April 30.

At the Friday's news conference at Infotag, Festival Director Svetlana Tirtau said that the event is aimed at mobilizing the youth of different nations and cultures.

"The festival became a good tradition and a platform for cultural enrichment. Also, this is a good opportunity to identify new youth trends in theater and cinema. It is important to trust in the young generation, train it and invest in it. By means of their works, the youth is talking about the modern society", said State Secretary of the Ministry of Education, Culture and Sciences Andrei Chistol.

According to Academy of Music, Theater and Fine Arts (AMTAP) President Victoria Melnic, the youth has put focus on drama at the 2018 festival.

"The ClassFest is a cultural discovery, which allows looking aside from daily routine and taking in the art. The festival unites traditions and innovations, Eastern and Western culture, which makes it a unique event. Moldovan students, teachers and viewers will have the opportunity not just to get acquainted with other countries' cultures, but also to adopt their experience", Melnic said.

Students from germany, France, Romania, Poland, Austria, Russia, Ukraine, Belarus, Georgia, Kazakhstan and Armenia will take part in the festival.

The admission to theatrical performances, film screenings, workshops and seminars is free.

The event is being conducted with the support of the Governments of Moldova, France and Germany.