RUSSIAN SLAVIC PARTY PRESENTS ITS CANDIDATES FOR MAYORAL ELECTIONS IN CHISINAU AD BALTI
04 may, 2018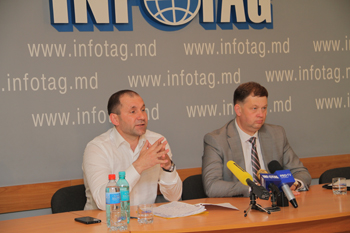 The Russian Slavic Party (RSP) names its candidates for the early mayoral elections in Chisinau and Balti.

RSP Chairman Oleg Topolnitchi reported at a press conference that he intends to run for Balti Mayor, while his colleague Alexandru Mitu runs for Chisinau mayoralty.

"I am a Balti citizen in a third generation. I am not going to leave my native town. I am going to revive its former economic strength. It is necessary to create conditions that will raise investments. I think that a mayor has to be first of all a business manager and not a politician", said Topolnitsy, who heads a private company.

Alexandru Mitu stated that he is not a Chisinau citizen but he believes that Chisinau is a city for everyone.

"I understand that one-year-mayor-mandate is not an easy situation. Although, results can be achieved even within a year. As a professional builder, I believe that we have to start with roads in the capital. Today, the city has no owner. Nepotism flourishes as well as money laundering. My second task is to stop these criminal schemes, starting with an increased attention to the business needs", said Mitu.

He voiced an opinion that there should be two state languages, including Russian, in the Republic of Moldova.