MOLDOVA'S MAIN FRIENDS ARE RUSSIA AND ROMANIA - POLL
14 may, 2018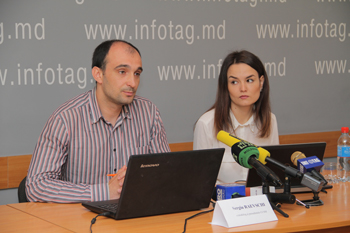 Russia and Romania are the main friends of the Republic of Moldova, as per the opinion poll carried out earlier this month by the Center for Sociological Researches of Moldova (CCSM). The poll results were presented in Infotag on Friday.

According to the research data, Russia is regarded as a friendly country by 38% interviewed Moldovans residing in Chisinau, Romania - by 37%, Germany - 8%, the United States - 5%, Ukraine - by 2%. Yet 10% respondents mentioned other countries.

The rating of Chisinau citizens' trust in foreign leaders is topped by Russian President Vladimir Putin - with 57% trust. Ex-President of Romania Traian Basescu is trusted by 49%, President of Belarus Alexander Lukashenko - by 34%, German Chancellor Angela Merkel - 27%, President of the United States Donald Trump - 15%, President of Ukraine Petro Poroshenko - 10%, and President of France Emmanuel Macron - 9%.

The poll also revealed that 38% Chisinau citizens are standing for Moldova's integration into the European Union, 34% -- into the Eurasian Economic Union, and the idea of Moldova's unification with Romania is supported by 22% Chisinau residents.

54% respondents are against Moldova's accession to NATO, 24% -- for the accession, and 22% are uncertain.

Carried out in Chisinau on April 30 through May 8, the CCSM poll involved 750 respondents. The pollsters are saying the error should not be in the excess of В±3%.


CHISINAU CITIZENS ARE CONCERNED MOSTLY ABOUT CONDITION OF ROADS, HOUSING AND ENVIRONMENT - POLL

The condition of roads, residential buildings and environment are the main problems Chisinau citizens are concerned about, demonstrated the results of an opinion poll, presented by the Center for Sociological Research of Moldova (CCSM) at the Friday's news conference at Infotag.

According to the poll, 34% respondents are worried about the condition of roads, 23% - streets' cleanliness, 14% - condition of residential buildings, 9% - the condition of sidewalks, 7% - public transport, 6% - relations with public officials, 5% - security.

According to 24% respondents, the resolving of Chisinau problems is impeded by lack of political support, 18% - by political decisions and incompetence of former mayor [Dorin Chirtoaca], 14% - lack of funds. 26% respondents mentioned other reasons. With all this, only one-fourth of the questioned citizens have positive attitude to ex-governor Dorin Chirtoaca.

Only 2% stated that they live much better that last year, 15% - better, 49% - did not feel changes, 2% - live worse than last year, 9% - much worse. Also, 64% respondents maintain that the situation in the republic is developing in wrong direction, while 16% - in right direction.

The opinion poll was carried out among 750 respondents in Chisinau on April 30 through May 8. The pollsters are saying that error should not exceed В±3%.