CIVIL SOCIETY ACTIVISTS DEMAND TO EXPEL FROM DA PLATFORM THE MAN WHO SHOUTED "PEOPLE LIKE CEBAN SHOULD BE KILLED"
29 may, 2018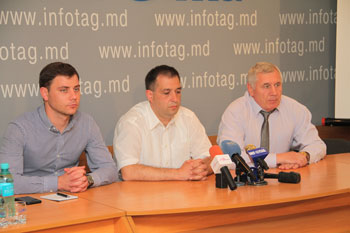 A number of civil society activists are demanding from the DA Platform to expel form the party the man who called to kill "candidates like Ion Ceban", who is the Chairman of the Socialist faction in the Chisinau Municipal Council.

Doctor of Law Sergey Mishin said at Monday's press conference that this is an egregious example when a supporter of one party, i.e. DA, calls on to kill supporters of another party.

"Such calls lead to discrimination and division of society; they will have legal consequences. At least, this act violates the 32nd article of the Moldovan Constitution. We appeal to Andrei Nastase with a request to exclude this person from the party and to distance himself from such statements", he noted,

The civil rights activist expressed his bewilderment on the fact that the Interior Ministry paid no attention to the "strong calls", despite the large amount of evidences that can be easily found on the Internet.

Dean of the international relations faculty of the University of European Political and Economic Studies named after Constantin Stere, Pavel Midrigan added that citizens expect a decent behavior from the candidates and not various provocations.

"The current election campaign is not quite correct as it is accompanied by various insinuations and accusations that do not benefit any of the candidates", he said.

Midrigan stressed that these are Chisinau mayoral elections and not parliamentary or presidential elections, that is why the candidates should not involve various foreign politicians, especially Romanian ones.

Chairman of public organization "Heirs of Stefan", Dumitru Roibu said that the same stream of radicalism could be seen during the presidential campaigns, "when even friends fought and never spoke again because of supporting different candidates".

"It is necessary to keep calm and remember that there were election campaigns in the past and present, and well into the future, but citizens should be consolidated to avoid corruption in the state agencies. Instead, we continue to quarrel over the candidates", he pointed out.