AMENDMENTS TO THE LAW ON INTERNAL TRADE WILL NEGATIVELY AFFECT CONSUMERS - MOLDOVAN RETAILERS
05 june, 2018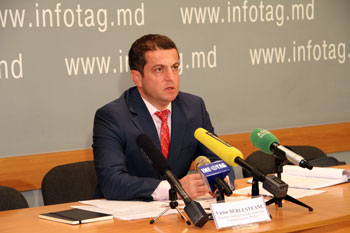 The entrance into force of the draft law on introducing amendments in the Law on internal trade (in its current variant) will negatively affect the ultimate consumer, maintains Chairman of the Moldovan Association of Retailers ProBiz Victor Durlesteanu.

He reminded at the Monday's news conference at Infotag that back in 2017 the work on the draft law started that should have put all the players (suppliers and retailers) in equal conditions, but groups of large producers decided to use some privileges - reduction of discounts the supplier may give to economic agent to 10%.

"This became a surprise, because there can be no such measure in conditions of free trade. Moreover, later the phrase "short chains of food supplying" was removed from the bill text, due to which the provision concerning 10% is designed for all the types of production, including that for imports. We have to understand that merchants' profit is made of the supplier's discount and the markup. If taking into account the restricted discounts, (after amendments enter into force) we can expect raising of prices on food, as the merchants will be forced to raise the markup to ensure profitability", Durlesteanu said.

According to him, the imported food products occupy a considerable share on the market, as Moldova is not producing a wide range of goods, among which tea, coffee, citruses.

"Most of all this will affect customers, who will lose in their purchasing power. Also, the preserving of the provisions in the current version will bring the customers back to the uncontrolled market - various bazaars where food safety cannot be guaranteed", he said.

ProBiz Chairman said that another problematic provision of the drafts law is the reduction of the term of advertising action, which allows getting a higher discount from producer (over 10%) to 60 days per year.

Durlesteanu said that this provision will restrict the possibilities for small producers to promote themselves, but retailers are working on the way to cooperate with small enterprises, which implies the selling of their goods under the brand, established by the retail trade network.

Also, retailers' representative said that shop networks support the providing of 50% of place on store shelves for the domestic products.