ECHR ORDERS RUSSIA TO PAY COMPENSATION TO FIVE MOLDOVAN POLICEMEN ILLEGALLY DETAINED IN TRANSNISTRIA
19 july, 2018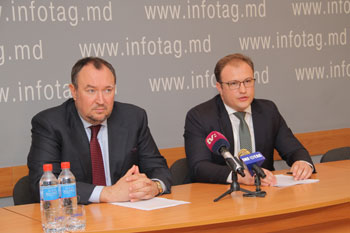 The European Court of Human Rights (ECHR) ordered the Russian Federation to pay 90-thousand-euros-compensation to five policemen, illegally detained in the unrecognized Transnistrian Moldovan Republic (PMR) in 2006.

This decision was announced by members of the Associated Law Office "Hanganu, Tănase & Partenerii" at a press conference at Infotag.

Lawyer Andrei Bivol reported that the question is about MoI policemen, who were arrested and detained in inhuman conditions in Transnistrian security agencies.

"After the release, it has been established that one of the policemen - Stefan Mangir came off the worst. Doctors prescribed him psychotropic drugs. We applied to the ECHR immediately after this case. 13 years later, the court decided on this matter", he said.

According to him, the ECHR found that Moldova has fulfilled its obligations towards the applicants' rights by releasing them from prison and now Russia remains responsible for the human rights violation, as the Russian military men detained the Moldovan policemen.

"The Court found that the applicants' right to liberty and security, the right not to be subjected to torture and ill-treatment, as well as the right to an effective remedy were violated. In particular, the procedure of arrest and detention of police officers in Transnistria was not legitimate. Due to the economic, political and military assistance provided to the PMR, Russia remains guilty of violations of the plaintiffs' rights", Bivol said.

The ECtHR ordered Russia to pay 25-thousand-euros-compensation to Stefan Mangir, and 20-thousand-euros-compensation to Constantin Codrea, and the rest of the policemen - 15 thousand euros each, totaling 90 thousand euros, and three thousand euros court costs. Thus, the Russian Federation must pay the compensation within a maximum of six months after the court's decision. Infotag's dossier: In 2006, five police officers of the Moldovan Interior Ministry, who investigated crimes on the territory of Transnistria, were detained by the local security forces on charges of espionage and kidnapping of a Transnistrian politician.