30 MOLDOVAN NGOs TO RECEIVE GRANTS FROM SOROS AND KEYSTONE WITH EU ASSISTANCE
16 august, 2018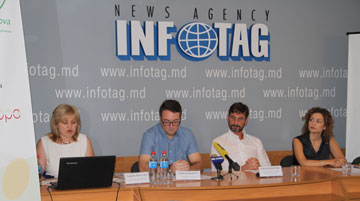 Thirty non-governmental organizations in Moldova will receive gratuitous financial support in the form of grants for realization of their social projects in this republic. The means will be provided by Soros-Moldova, Keystone and the European Union.

At the news conference held in Infotag on Wednesday, the representatives of the Soros-Moldova, Keystone and the European Union Delegation to the Republic of Moldova said that the maximum size of a grant for realization of a project will be 50,000 euros. All the projects are to focus on rendering social services to about 1,000 children from vulnerable population groups and to people suffering intellectual and psycho-social disturbances.

The grants program has been organized within the Project on improving social services through sustainable partnership between the civil society and the government, financed by the European Union and co-financed and implemented by the Soros-Moldova Foundation in collaboration with the Keystone Moldova Association for rendering public services. The Program is to provide access to grants totaling 2.2 million euros.

Project Director Daniela Leahu said at the news conference in Infotag that the grants will be furnished for periods of 6 to 24 months, and the non-governmental organizations will receive technical assistance from the Keystone Moldova.

Leahu said that the services being developed must meet the needs of the beneficiaries identified in the course of a research carried out in July-August. Local organizations will be offered to establish and consolidate long-term partnership relations with central and regional governance bodies for a joint creation and development of such kind of services.

Fabien Schaeffer of the European Union Delegation to Moldova said that by this project the European Union proposes to directly meet the population's needs by financing in the sphere of rendering quality social services to local communities that have no possibility to attract European funds.

The EU diplomat said the grants will be available for organizations that work on the local level in several populated areas in northern, southern and central Moldova, and that will broaden free innovational social services oriented at children from vulnerable population groups, as well as persons with intellectual and psycho-social abnormalities.

Applications for grants are welcomed until October 4.

Infotag's dossier: According to the official statistics, Moldova is home to 184 thousand adults with limited possibilities, of whom each 10th person suffers mental disturbances. About 1,400 children live in boarding schools and the like institutions, and 70% of them have limited capabilities.