AGEPI LAUNCHES INFORMATIONAL CAMPAIGN AGAINST INTERNET PIRACY
18 september, 2018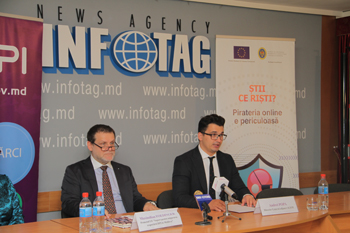 The State Agency on Intellectual Property (AGEPI) has launched a campaign on informing people about the threats and risks of the internet piracy within the EU project "Support to Implementation and Enforcement of Intellectual Property Rights in Moldova".

AGEPI Deputy Director Andrei Popa said at the Tuesday's news conference at Infotag that the main goal of the campaign is to raise the awareness of people, first of all the youth, to the fact that the internet piracy is the stealing of intellectual property, a crime, which is punishable within the frames of republican and international laws.

"A special attention will be given to risks to ordinary users at downloading pirate programs. Within the campaign, a series of videos will be issued, in which experts will explain the danger of internet piracy in everyday words, as well as they will tell about the possible alternatives to this phenomenon. The information will be shared through social networks, as well as through the website www. pirateriaonline.md", the specialist said.

According to him, the reasons of internet piracy growth are in great revenues such activity is bringing, the organized crime's interest in using this phenomenon, as well as the tolerant attitude to the piracy in society.

"Also, we intend to focus the society's attention on the internet piracy's destructive influence on creative industry. Composers, film directors, artists, programmers are deprived of the basic motive for continuation of their activity, as their creation may be simply stolen. We intend to change the citizens' attitude to this exclusively negative phenomenon, to explain the advantages of using only legal content to support the development of creative work", Popa said.

Coordinator of the project "Support to Implementation and Enforcement of Intellectual Property Rights in Moldova" Maximilian Fodinger said that the knowledge and information becomes the basic currency of the 21st century and the intellectual property, just as any other property, needs a firm protection.

"Within the project, we intend to stress the immorality of using the pirate content, which in fact is nothing more than a theft. We intend to inform users that at downloading such programs there is risk of hacking and personal data breaches. The internet piracy is a threat not only for Moldova, this is an international threat, as the revenues from this activity has exceeded the profit of drug trafficking. Moldova does not have rich natural resources, thus the issue of protecting intellectual property is of a special importance for us. The launched campaign which will continue until November, should warn the users not to risk to avoid becoming victims of internet pirates", he said.