SOCIAL PROGRAM "PROTECTION AND PROSPERITY" LAUNCHED IN CHISINAU
14 december, 2018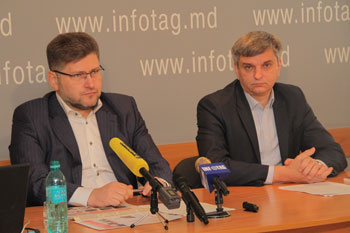 "Protection and Prosperity" is the new social program, launched in Chisinau on Friday under the slogan "Let us make officials work!".

The program author, President of CETESTA public organization Andrei Negruta said at the Friday's news conference at Infotag that most of Moldovan officials, getting comfortable seats, often forget that they represent citizens' interests and should work for their benefit.

"In reality, the situation is that public officials live in a different world than the rest of people, due to which they got their seats. This raises serious questions, especially in the context of permanent statements about Moldova's European integration. However, as everyone can see the republic is far from European standards and values, including in terms of officials' attitude towards citizens", he said.

According to him, the Moldovan diaspora in Germany is leaving with permanent thought of returning home, but Moldovan authorities are doing nothing not just for bringing people home, but first of all to prevent citizens' leaving in seeking of conditions for decent life.

"Moldova has necessary potential for development and prosperity. For this, it is first of all necessary to make officials fulfill their liabilities. The need of such programs like "Protection and Prosperity" appears when the authorities forget who elected them, for what they were elected and that they should have a direct dialog with people. Such a situation should be corrected", Negruta said.

The main goals of the new social program include: studying of relevant and painful problems by means of collecting information and people's addressed; interaction with responsible persons and agencies; controlling the fulfillment of official duties by municipal and state organs; providing of legal support and consultation to citizens.

The social program in Chisinau will start from the Sectorul Botanica of the city, where a mobile group will be working. They will promptly respond to any need, expressed in a call on the hotline (022 23-23-77).

The entire work of the social program "Protection and Prosperity" will be transparent and public. For this, an author's program of Andrei Negruta will be broadcasted on the TVC 21 channel each Wednesday at 19:00. Also, a website www.negruta.md was launched for a closer dialog with citizens.