GHEOGHE PETICA LAWYERS SAY HIS LIFE IS IN DANGER
16 january, 2019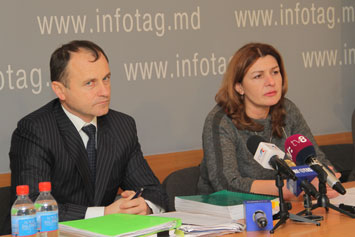 Life and health of former Customs Police officer Gheorghe Petica, accused of rape, is under threat due to physical pressure he is facing in the penitentiary institution, said lawyers Angela Istrati and Andrian Cojocaru at the Wednesday's news conference at Infotag.

"Methods of psychological pressure, applied against Gheorghe Petica before, gave no effect, thus he is now subjected to physical pressure", Angela Cojocary said.

According to her, in some cases even those charged with murder are not kept in detention in penitentiary during the investigation, while Petica, who is charged with a less serious crime, is declined in changing the preventive measure.

"Our petitions on changing the preventive measure to house arrest, release on probation and under personal guarantee were declined. Now we are preparing a complaint about illegal arrest to the European Court of Human Rights", the lawyer said.

She lamented that the judicial process is developing too fast, sittings are held daily, the lawyers' commitment is ignored, as well as the difficulties the accused is facing due to permanent transportations to court.

"Gheorghe Petic is transported to court sittings hungry. He is feeling bad. Ambulance was called to him twice to Balti court, once to Orhei court, while yesterday paramedics were called to Rezina penitentiary. Courts ignored defense's requests to transport Petic to hospital for medical examination despite the fact that the prison does not have necessary specialist", Istrati said.

She said that on Tuesday morning Petic received an integrity certificate from the National Integrity Organ, which allows him to run at parliamentary elections.

"He was secretly taken out from the penitentiary and brought to Chisinau. He was kept in a car near the NIO, then the Organ official transmitted the certificate to the police car Gheorghe was in. I want to stress that according to the court decision, Petic should have been brought to the NIO on January 15-18 between 13:00 and 15:00. Despite his questions, he was not informed where he is transported", the lawyer said.

Lawyer Andrian Cojocaru maintains that the right of his client to fair trial was also violated, as numerous violations were committed during the process of detaining and the judicial procedures.

"The injured party was absent from the first 16 court hearings in Orhei, despite the fact that the defense pointed at the illegality of further sittings in its absence. The victim came to the hearing only on December 10, surrounded by persons in civilian, who probably were police officers", he said.

Infotag's dossier: Gheorghe Petic became known after he disclosed a scheme of cigarette smuggling through the Moldovan-Romanian border in summer 2018. According to him, high Moldovan officials are involved in this scheme. Later, he was detained on accusation of rape. Petic is also chairman of the territorial organization of the oppositional "Demnitate si Adevar" Party.