IRINA VLAH HAS ALL CHANCES TO WIN IN FIRST ROUND OF GAGAUZIA ELECTIONS
21 march, 2019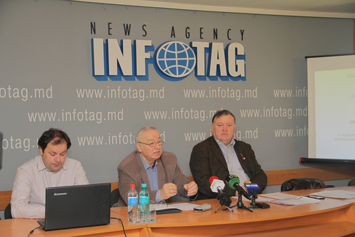 If elections of Gagauzia head took place next Sunday, the incumbent Bashkan Irina Vlah would get the victory from the very first round of voting, say the results of an opinion poll presented by the Association of Moldovan Sociologists and Demographers at the Thursday's news conference at Infotag.

According to them, despite the fact that officially the election campaign has not started yet and none has presented election platforms, 50.9% respondents are ready to support Vlah, 5.3% – ex-Democrat MP Nicolae Dudoglo, 3.8% – Mayor of Comrat municipality Sergey Anastasov, 2.6% – Chairman of the Gagauzia Popular Assembly Vladimir Kyssa, 1.5% – Socialist MP Feodor Gagauz. Around 29% of other respondents said they do not know for whom to vote.

Taking into account only the decided respondents, Vlah would get 71.9% votes at election, Dudoglo – 7.5%, Anastasov – 5.4%, Kyssa – 3.7%, Gagauz – 2.1%.

The Vlah's high ranking may be explained by the fact that most of respondents positively assess her activity in the post of governor over 4 years: 65.9% gave a "very good" grade, 23.3% assessed her work neutrally, 6.9% – negatively.

One-half of respondents maintain that the next governor has to improve the standard of living in the autonomy, 35% - to fight against unemployment, 29.5% - to develop region's economy, 20.2% - to stop the migration, 18% - to develop medical assistance.

The opinion poll was carried out among 1029 residents of 22 various-level populated areas of the UTA Gagauzia on March 15 through 19. The pollsters are saying that error should not exceed ±2.6%.
MOST OF GAGAUZIA CITIZENS SAY THEIR LIFE IMPROVED DURING IRINA VLAH GOVERNANCE – POLL

Most of Gagauzia residents say that general living conditions in the autonomy improved over the last four years. These are the results of an opinion poll presented by the Association of Moldovan Sociologists and Demographers at Infotag on Thursday.

Almost 16% of respondents said life became much better, 46.9% – slightly better, 24.6% said no changes occurred, 5.4% - life worsened, 4.3% - life became much worse.

Sociologist Andrei Dumbraveanu said that in comparison to the data on Moldova, people in the autonomy are much more optimistic [the previous polls demonstrated that most of Moldovan citizens negatively assess the changes in the country].

According to 37.3% of respondents, the work of Gagauzia Bashkan [governor] Irina Vlah allowed to achieve positive results in the field of developing social infrastructure, 25.4% – cultural-social sphere, 21.8% - economic activity. Also, 19.5% of the interviewees say that a positive moment is the Bashkan's friendliness, 15.5% - care for Gagauzia citizens, 11.4% - improvement of street lighting, 11.2% - support to the youth, 10.5% - resolving of water supply issues.

"Analyzing these positive aspects you can see that they are mostly a result of implementing socially, culturally and economically important projects, which were supported by Turkey, the European Union, Romania and Russia. However, in discussions with respondents we found out that the priority is given to Russia's actions, as it is very popular in Gagauzia and is directly invested in the autonomy", the sociologists say.

Among the negative aspects of Bashkan's work, 27.1% respondents pointed on low living standards in the autonomy, 16.5% - lack of accountability to the people, 16.3% - dirt and waste in the streets, 15.2% - bad roads, 12.7% - poor medicine, 11.9% – low efficiency of combating corruption, 11.6% - poorly-equipped streets, 11% - lack of investments.

Specialists say that people do not care if the Bashkan has or has not powers for satisfying citizens' requirements (tariff lowering and salary raising), they just want that their problems to be resolved.

Around 66% of autonomy residents said that the Gagauzia head plays an important role in resolving citizens' problems, 19.7% that she plays a passive role as she speaks more than works, 5-6% said she has no role in the autonomy.