ARMENIAN JOURNALIST INDIGNANT AT HOW HE WAS EXPELLED FROM UKRAINE
08 april, 2019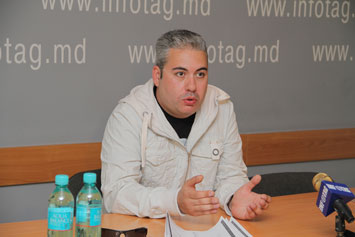 Vaan Martirossyan, a free-lance journalist and human-right activist from Armenia, maintains that he was unrightfully expelled from the Donetsk Oblast [a rebel region in eastern Ukraine] "through the fault of the unlawful actions taken against me by the Security Service of Ukraine [SBU]".

At his news conference in Infotag held on Friday, Martirossyan said that the reason of his expulsion was his journalist work in eastern Ukraine for a number of foreign media outlets. Prior to the deportation, he was caught by SBU agents at the end of 2018 and detained at several private apartments, one after another.

"There, they subjected me to constant bruising, and threatened me and my family. Eventually, to somehow get rid of me, on March 15 they transported me to the border with Transnistria and literally "threw" me over the border into the region – at night and without documents or a mobile phone. Those SBU guys thought I would be arrested in Transnistria and handed over to Russia, but they miscalculated: already one hour later, I was in Chisinau. I am very grateful to Moldovan state agencies and to international human-right organizations for assistance. Despite all threats that were coming from the SBU, already on March 25 my family arrived in Chisinau", said Martirossyan.

The journalist explained that he is a citizen of Armenia, and has made two unhappy attempts to receive the status of a political refugee in Ukraine. He said that the story with his arrest and illicit detention in Ukraine was described in Paragraph 49 of the 2018 Report on Ukraine prepared by the Office of the United Nations High Commissioner for Human Rights.

"And in Ukraine itself, two criminal litigations have been instituted against SBU agents for their brutality and lawlessness. They are being conducted by the State Investigation Bureau and the Prosecutor General's Office of Ukraine. One should understand, however, that the present-day Security Service of Ukraine is a repressive machine deadly feared not only by usual citizens but also by journalists. As a result, not a single Ukrainian media outlet has published a word about the crimes committed against me. So far, I cannot return to Ukraine. I hope I will find a use to my capacities for journalism and human-right activities in Moldova", said Vaag Martirossyan.