NEW MUSIC DAYS START IN CHISINAU ON FRIDAY
06 june, 2019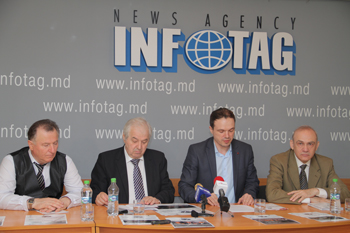 The festival "New Music Days" will take place in Chisinau on June 7 through 13. It is organized by the Union of Moldovan Composers and Musicians. Modern works by domestic, as well as Romanian, Spanish, Estonian, American, Russian composers will be performed within the event.

Union Chairman Ghennadie Ciobanu said at the Thursday's news conference at Infotag that the festival is aimed at familiarizing the society and specialists with modern music.

"It reflects the problematic and specificity of our days. A cultural state should develop new, modern art to be proud of it later. Two symphonic concerts, two chamber concerts and a choir music concert will take place within the festival", the composer said.

The symphonic orchestra of the National Philharmonic led by Mihail Agafita will open the festival on Friday. Romanian violinist Francesco Ionascu will also perform within this concert. On June 10, the Estonian trio (pianist Maila Ladna, cellist Aare Tamesalu and violinist Arvo Leibur) will give a chamber concert in the National Museum of Fine Arts.

Also, the festival program includes workshops and presentations of books of Romanian music figures. The admission to all concerts is free.

Infotag's dossier: The New Music Days Festival is traditionally held with financial support of Mihai Eminescu Romanian Culture Institute and the Moldovan Ministry of Education, Culture and Sciences. Moldovan authorities allocated 50 thousand lei, while the Union of Composers – 60 thousand lei.