TRANSNISTRIAN CONFLICT PARTICIPANTS CONVENING GRAND ASSEMBLY OF ALL POWER VETERANS
10 june, 2019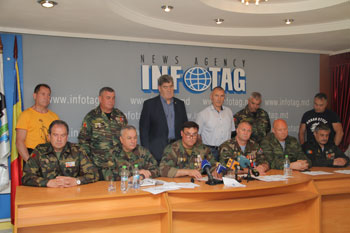 Veterans of the 1992 Transnistrian armed conflict convene a meeting of veterans from all Moldova's power structures in the Main Chisinau Square at 10:00 on June 12.

On Monday, a group of combatants held a news conference at Infotag, making a statement in which they condemn what President Igor Dodon has done.

Before the veteran representative started reading the statement, a group of journalists – approximately 8-10 people – put banners with the inscription "Protest" on the table before the veterans. One of journalists transmitted to veterans greetings from Mr. Balan. [Gheorghe Balan is new head of the Police Commissariat, appointed by Maia Sandu Government at the Monday's sitting].

The veterans' statement says that Dodon's action does not allow him being President of the Republic of Moldova.

"He is a real traitor, who wants federalization of Moldova, he is Russia's vassal. We protected Moldova's sovereignty and territorial integrity with weapons in our arms and at the expense of our compatriots' lives on the Dniester River in 1992. We will not tolerate that a traitor, who was paid from abroad for fulfilling orders of his masters, to be heading the country", said one of veterans.

The read document also says that veterans of the Transnistrian conflict and of all the power structures of Moldova are subjected to the legal Government, headed by Pavel Filip, which preserves stability and order in the country.

Combatants called on their colleagues-veterans from power structures to participate in the meeting called "Consolidation" on Wednesday.

Representative of veterans said that they transmitted their statement to President Igor Dodon.

"We will not allow to federalize the republic. We will not give a square meter of our land to anyone. We will stand till the end, we will make not a step back", the veterans' statement says.