LEX SCRIPTA PRESIDENT CALLS POLITICAL CONFLICT SIDES TO DIALOG
12 june, 2019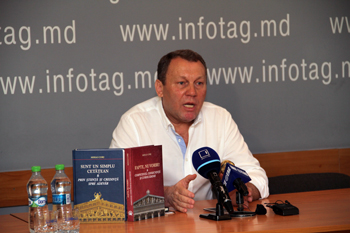 President of the Lex Scripta law-making institute Mihai Corj calls on all sides of the political conflict to dialog for avoiding escalation.

At the Wednesday's news conference at Infotag he said that parties should have a responsible approach to the current situation in the country, to avoid political nihilism and prevent the division of the republic into two camps.

"The source of crisis was the Constitutional Court's decision, which says that the deadline for forming parliamentary majority was June 7. However, the Main Law clearly stipulates the term – three months; each of these months has different number of days, thus, June 9 is a legal date that allows initiating the corresponding procedure no matter one likes it or not. Though, given the formal logic, the deadline should be June 21 – three months since the moment of first parliamentary sitting, respectively, the appearance of the possibility for MPs to discuss the formation of a parliamentary majority", the lawyer said.

According to him, there are two governments in the country actually, but one of them de facto cannot start fulfillment of their duties, thus dialog is necessary for peaceful settlement of the situation.

"However, in this situation it is impossible to ignore a considerable part of MPs [40 representatives of the DP and the Shor Party and three independent deputies], who ignore the legislature's sittings. No matter the attitude to them, they have to be present in the parliament to discuss the situation", Corj said.

According to him, a mediator is necessary in negotiations between the sides. This may be a representative of civil society with wide experience in the field of law. Corj said that he is ready to undertake this responsibility if necessary.

"We should find a peaceful way out of crisis in order that the situation in Moldova to return to normal. Nobody can hope for eternal holding of power, as it is changeable. Thus, dialog is necessary to find a political solution", the expert said.