UKRAINE MAY DECIDE TO REVOKE EXTRADITION OF VEACESLAV PLATON TO MOLDOVA - LAWYER
03 july, 2019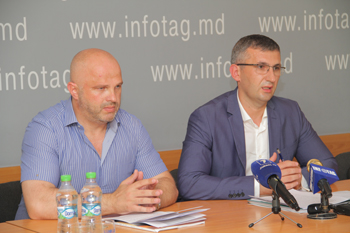 Ukraine may take a decision to cancel the permission to deliver convicted businessman Veaceslav Platon to the Moldovan authorities, reported lawyer Eduard Rudenco.

He stated at a press conference that Ukraine's State Bureau of Investigation has initiated a criminal case based on the statement of the businessman convicted to 25 years, due to his illegal extradition from Ukraine to Moldova.

"There is a decision made by the Kiev court on the violation of the extradition procedure of Platon to the Moldovan authorities. For instance, the decision can be appealed within 10 days after the document appearance. No time limit was observed in the Platon's case. He was rapidly delivered to Chisinau within a day", said Rudenco.

He believes that Platon was delivered to Moldova thanks to the close ties between ex-coordinator of the ruling coalition Vlad Plahotniuc and then president of Ukraine Petro Poroshenko.

"It is commonly known that they have a joint business in Moldova; they used to "help" each other against their opponents. Unfortunately, there were some other people involved in delivery of Platon: acting Prosecutor General Victor Lutsenko and former Chief of the Security Service Vasily Gritsak, etc", noted the lawyer.

Eduard Rudenco pointed out that the same precedents took place in Armenia and Albania, where a person was condemned and later it turned out that he was extradited with violations. In the case of Platon this is the gravest violation. Platon was taken out on a private airplane.

Another lawyer Valery Plesca reported that on June 21, 2019, a complaint submitted by Veaceslav Platon was registered at the European Court for Human Rights (ECHR).

"The first sentence was appealed - 18 years in jail. We have challenged it in all national instances, but to no avail. We addressed the ECHR, since there are a lot of violations in this criminal case: denial of participation in the examination of defense witnesses (at least four people), pressure on the lawyers, the way they treated Platon, which can be qualified as inhuman, and frauds in the course of court hearings. This is the fifth complaint submitted by Platon to the ECHR", he said.

Veaceslav Platon owned major assets in the banking and insurance business of Moldova. The state bought his shares in banks and insurance companies and then sold them to foreign investors. The Moldovan and Russian media wrote that the businessman was involved in "laundromat", when more than US$20 billion lei was laundered from Russia through the Moldovan banks.