UKRAINIAN COMPANY INSISTS ON HIGH QUALITY OF INSULIN SUPPLIED TO MOLDOVA
11 september, 2019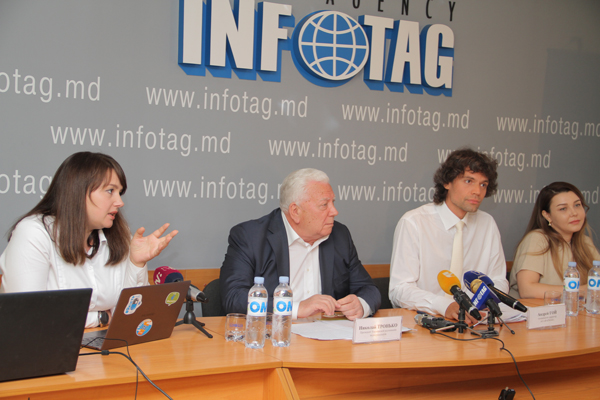 Representatives of the Ukrainian company "Farmac" are convinced of high quality of the medication for treating diabetes "Strim" they supplied to Moldova in early 2019.

Marketing and Sales Director Susana Halilova said at the Tuesday's news conference at Infotag that the company was founded in 1925 and is leader at the Ukrainian pharmaceutical market since 2010.

"The main determinant in our activity is the control over the quality of the issued products. In this work we seek to achieve European standards. "Farmac" is present in 20 countries, including the US and Australia. In 2018 the volume of sales accounted for US$235 million, US$50 million of which - outside the country", the manager said.

She explained that the insulin, known in Moldova as "Strim" is used in Ukraine for 13 years already.

"The development of such difficult medications is the pride of any producer. The main goal, put at work on this type of insulin, was its efficiency, quality and accessibility for patients", Halilova said.

She added that in November 2017, finding out that an open tender is organized in Moldova for supplying insulin, the company decided to participate in it.

"We have been working for already many years in your country. Since 1992 we brought the number of the supplied medications to 70. When we came to your market, our competitor, who was supplying the medication "Lantus" was forced to lower its price almost three times (to 72 lei in 2018 from 286 lei in 2016). According to our calculations, we managed to save at least US$700 thousand for the Moldova's state budget, coming to diabetes patients with a modern and quality product. This is one-third of the budget, allocated by the state for buying insulin", said the company director, stressing that the main goal of the firm is to provide adequate pharmacological assistance to people.

According to it, in Moldova there are up to 15 thousand patients who systematically need insulin.

"Such a number of patients need up to 450 thousand cartridges with the medicine. In our contract it is provided the figure of 413 thousand. We supplied to Moldova 61 thousand cartridges, plus a special syringe-pen for free. We were very surprised when Moldovan competent authorities suspended "Farmac" license allegedly due to side effects of the "Strim" insulin", she said.

Halilova categorically refutes even theoretical possibility of the preparation's low quality.

"We have supplied 10 million cartridges to world countries (except Ukraine) and registered 60 cases of side effects. To our compatriots in Ukraine we sold 150 thousand packages of insulin and treating doctors registered only three cases of deviations. And now, in Moldova we find out about the allegedly registered dozens of cases of side effects in localities. Meanwhile, we are not allowed to talk to doctors who identified such phenomenon, neither to get acquainted with patients' medical records. We do not have access to these data. However, we are ready to cooperate with the Moldovan Agency for Medicines and Medical Devices for resolving the occurred contradictory and vague situation", said "Farmac" head.

According to her, the case with the "Strim" may be regarded as an example of that disloyal competition which is often taking place when producers are coming to markets.

"We maintain that the best solution would be the assessment of the insulin by independent experts. Moreover, we are ready to propose to Moldovan endocrinologists and workers of the Ministry of Health, journalists, to visit our production facilities in Ukraine to convince them of applying high technologies and latest achievements of science. Another form of discussion may be the dialog within a scientific-medical symposium, which will start its work on September 26 in Truscavet. We hope that the suspension of "Strim" is a misunderstanding, but not an artificially created conflict situation. We always prefer to negotiate. Especially given that the health of thousands of Moldovans depends on insulin supplies", Halilova said.