NGOs LAUNCH SUB-GRANT PROGRAM FOR TORTURE PREVENTION
12 september, 2019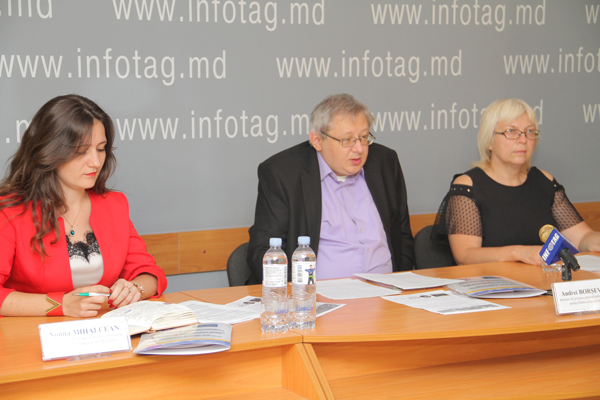 The Institute for Democracy (Comrat), the Media Center (Transnistria) and the National Institute for Women of Moldova "Equality" nongovernmental organizations launched on Wednesday a program of sub-grants for NGOs for combating tortures within the project "Say NO to Tortures in Moldova!", implemented with the EU support.

Director of the Institute for Democracy Andrei Borshevschi said at a news conference at Infotag that the phenomenon of applying tortures is still present in the territory of Moldova, which is much due to extreme overcrowding of penitentiary institutions and harsh detention conditions of prisoners and patients of psychiatric clinics.

"Within the project, three centers of legal and psychological assistance have already been opened where torture victims are helped to overcome the stress and get legal support. Around 60 seminars were conducted among employees of penitentiary institutions and mental health clinics, a network of nongovernmental organizations was created for combating this phenomenon", he said.

According to Bosevschi, the proposed program of sub-grants is directed to applying a more complex approach for preventing tortures, for creating protective measures, conducting informational campaigns and mobilizing the society for combating the phenomenon.

Director of the Media Center NGO Luiza Doroshenko said that the specificity of counteracting tortures in the region is in the fact that local authorities deny the existence of the problem, while the cases of applying tortures are simply covered up.

According to her, due to the sub-grant program it is supposed to cover a wider range of measures for combating tortures - this concerns the program on informing, contribution and control of abiding by the corresponding UN Convention, legal defense of persons that may be subjected to such threats, legal and psychological support.

The sub-grant program is planned for implementation in the period of November 2019-October 2020. The total budget of the program is of 470 thousand lei. The interested nongovernmental organizations can apply till September 30. Winners will be established by an independent commission. The beneficiaries may rely on a grant worth 4-7 thousand euros. The project is financed by the European Union within the European Instrument for Democracy and Human Rights as a part of project "Let All of Us Say NO to Torture in Moldova: Civil Society against Torture".