FRONT LEADER CLAIMS THAT SOCIALISTS ARE INVOLVED IN CONSTRUCTION MAFIA IN CHISINAU
29 octomber, 2019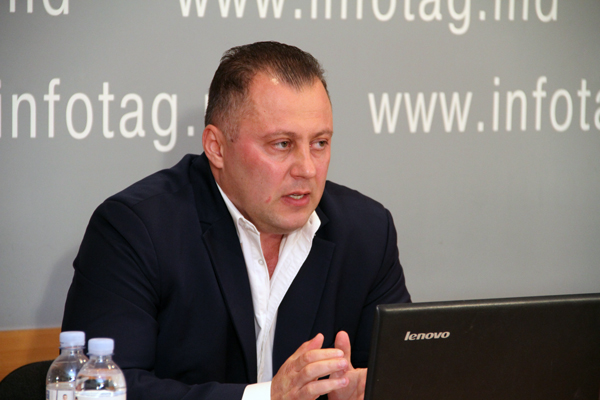 Marcel Darie, Chairman of the Party "Front for Salvation of Moldova", has stated that the Party of Socialists (PSRM) directly participated in the racketeering practiced in the construction sector in Chisinau.

Speaking at a news conference in Infotag on Tuesday, Marcel Darie called "an absolute truth" the numerous reports in the public area about the Socialists' pressure on building companies and about the overt extorting of money from the people of business over recent years.

For an example, Darie referred to the story of the construction of an apartment house at 27 Milescu Spataru Street in 2016.

"I was the legal consultant of the contractor company Pro Invest Construct then, and held a meeting with Ion Ceban, who headed the Socialist faction in the Chisinau Municipal Council, to make sure that we had no problems with our documentation. Ceban said that it was necessary to meet with Councilor Alexander Odintov, who was in charge of such questions. And though all our papers were in a perfect order and the construction was going on fully legally, we were told a sum we were to pay to continue the works – 75 thousand euros in the form of 3 apartments in that house", said Darie.
In his words, "When the PSRM heard a refusal from us, a real pressure began. The construction site was systematically visited now by Socialist Municipal Councilors, then by Socialist MPs, then by both, who were impeding the works. Eventually they resorted to ruining the fence with sledge-hammers and crow-bars, and then dismantled and carried away the fence".

"We lodged a complaint with the Prosecution Service, and two criminal litigations were initiated on charges of hooliganism. But up to now, i.e. 3 years afterwards, the cases have not been sent to the court. They've been suspended. Somebody protects the Socialists", said Marcel Darie.

In his opinion, all such actions were practiced under the leadership of Ion Ceban. Darie has called the Prosecutor General's Office and the Ministry of the Interior to interfere, to re-start the suspended litigations and to bring culprits to responsibility.

"All what the Socialists are trying to present as their struggle against illicit construction is but a show and a PR project. We hope the new Mayor of Chisinau will struggle against the reasons of problems and not with their consequences", said Marcel Darie.