EXPERT-GRUP LAUNCHES INTERACTIVE MAP OF MOLDOVA'S MINERAL RESOURCES
27 november, 2019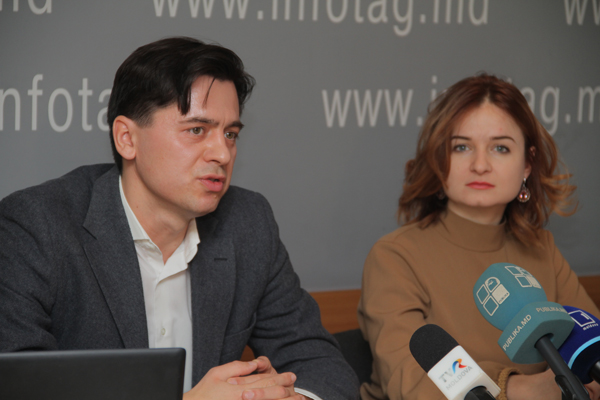 The Expert-Grup international analytical center has launched its Internet platform called "The Interactive Map of the Republic of Moldova's Mineral Resources" – the first public digital resource of such kind made in Moldova.

Expert-Grup economist Iurie Morcotilo said at a news conference held in Infotag on Wednesday that the question of using of mineral resources (sand, clay, limestone and other building stones etc.) is very rarely discussed in the Moldovan society. But even the innumerous researches and professional reports done in this sphere indicate the presence of serious systemic problems pertaining first and foremost to the transparency of using the mineral wealth.
"According to the Report presented by the State Ecology Inspection in 2017, the violation of the borders of commercial quarries inflicted a damage of 30 million lei to the national economy that year, and in 2010-2017 – 214 million lei. Another considerable problem is the illegal exploitation of deposits. In 2017 alone, the Inspection registered 237 illicit quarries, of which 133 were clay quarries (totaling 103 hectares), 83 – sand quarries (98.5 hectares), 21 – stone quarries (35.61 ha)", said the expert.

In his words, despite the authorities' efforts to put an end to illicit production, the problem is not becoming less acute. So, the Expert-Grup, with the support of the Soros-Moldova Foundation, has created the platform, thanks to which individuals and non-governmental organizations can find full information about the using of mineral resources in Moldova, and can signal about revealed violations.

Expert Tatiana Savva called on all conscientious citizens to report the problems they know about in this field.

"We suggest creating a nation-wide civil network of local environmental organizations, journalists, civil society activists, broad public, who would report about illicit quarrying or other unlawful using of the country's mineral resources. The project may serve an excellent platform for the interaction of all active segments of the civil society in this extremely important sphere", said the expert.

The interactive map is available at http://resurseminerale.site/, which is open for citizens' and organizations' reports about violations.