CIVIL ACTIVISTS TO TRANSMIT A LIST OF PERSONS INVOLVED IN FABRICATING COURT CASES TO PGO
27 january, 2020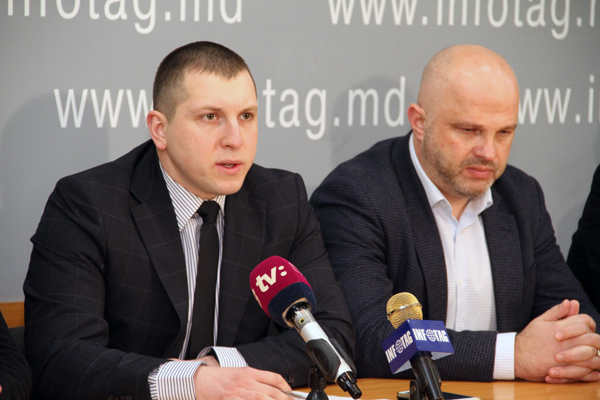 A list of 47 law enforcement officers, involved in fabrication of criminal cases, will be transmitted to Moldovan Prosecutor General Alexandru Stoianoglo.

Chairman of the "Dreptul la Dreptate" Association of oligarchic regime victims Pavel Grigorciuc said at the Friday's news conference at Infotag that at the beginning of this week the PG gave correct assessment to the activity of two specialized prosecution services, calling them "organized criminal groups".

"Being such a high official, Stoianoglo has for the first time over the entire history of the independent Moldova apologized before citizens, who suffered from repressions. We regard this as a right step of the new PG, but it is necessary to continue moving. Next, prosecutors, police officers, Information and Security Service officers, involved in fabrication of cases and persecuting business people, must answer in court and be deprived of property earned due to corruption acts", the human right activists say.

He reminded that people, sentenced on dubious charges, for example the participants of the protest action against Plahotniuc's regime - Ruslan Safarmatov, Valeriu Cucu and David Davitean - are still in prison.

"In relation to other Association members there are also various prohibitions, not cancelled by courts: ban on travel out of the country, prohibition to conduct business activity. Moreover, the courts do not haste at all to close the obviously fabricated cases", the civil activist said.

He reminded that for already the 6th consecutive year he is investigated within the case on the so-called cout d'etat. At a press conference in late November 2014, prosecutor Viorel Morari and Deputy Head of the Police general Inspectorate Gheorghe Cavcaliuc accused Grigorciuc and a group of his comrades of the intention to bring down the authorities.

"Everything is very clear. Arms and other "proofs" disappeared from the case materials. Still, the case is migrating from one institution to another and there is no final verdict on it that would come into force", Grigorciuc said, supposing that judges, who were actively helping prosecutors in fabricating cases, should also be punished.

According to him, Moldova should follow the example of the neighboring Ukraine where the new administration dismissed 55% of 20 thousand prosecutors, thus cleaning the structure of more than 10 thousand prosecutors who defied themselves.

"Ukraine is dismissing all judges whose decisions were declared as unlawful by the European Court of Human Rights (ECHR). We should also go this direction, cleaning the entire justice system and prevent these personages to hide in quiet spots where they hope to sit tight", Grigorciuc said.

He maintains that Stoianoglo should appoint a special prosecutor for work with citizens, against whom cases were fabricated.

"This should be a person with an immaculate record or a group of retired prosecutors who are authority specialists. They may work with such type of cases", said he.

Among 47 law enforcers in the list, there are former Prosecutors General Corneliu Gurin and Eduard Harunjen, as well as former Deputy PG Igor Popa, prosecutors Adriana Betisor, Vitalia Busuioc, Nicu Sendrea.