WITH THE SUPPORT OF THE FRANCE EMBASSY, IN MOLDOVA STARTED A SUSTAINABLE WASTE MANAGEMENT PROJECT
26 november, 2020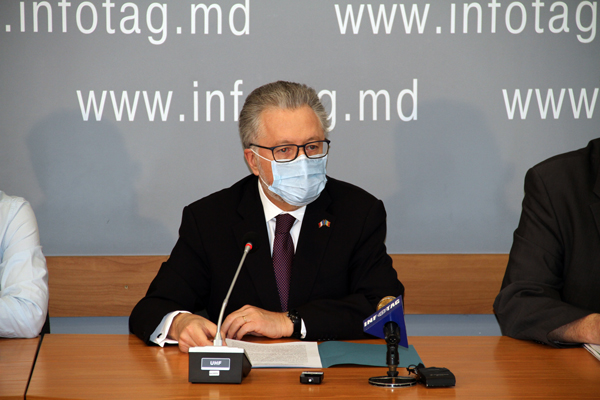 The project of decentralized French-Moldovan cooperation "Sustainable waste management in the central-eastern region of the country" was launched in Moldova on Thursday. This was stated at a press conference at Infotag by the Ambassador of France to the Republic of Moldova, Pascal Le Deunff.

He stressed that "the project, which will be implemented with the financial support of the French Embassy in Moldova, provides for the creation of infrastructure for waste disposal in five settlements of the Telenesti region - Verejeni, Ratus, Banesti, Chitcanii-Vechi and Telenesti. The French state-owned company Savoie Dеchets became the project partner."

"The project is aimed to create sustainable waste management through decentralized collaboration. This is an innovative project in Moldova, which is also aimed at the future with the goal of introducing more ambitious projects at the national level," Le Deunff emphasized.

According to the Ambassador, the settlements were selected on a competitive basis. "The project is designed for 18 months and its cost is 200 thousand euros."

Pierre Tournier, Director of Savoie Dеchets, noted that "the project aims to implement integrated solutions by supporting local authorities to transition to an innovative and efficient service."

"This project includes an integrated approach in four areas: communication, awareness raising and youth awareness of waste management; utilization of household waste and individual composting followed by the use of compost in agriculture; training people on the work of an inter-municipal waste management service in order to unite the efforts of local authorities in creating an infrastructure for waste management based on the principle of solidarity between settlements; collecting data to support diagnostics in order to implement a national waste management strategy," Tournier said.

In addition, the French Ambassador welcomed the heads of local authorities who are involved in the project.

"The embassy is pleased to support such initiatives. We believe that the project is aimed at the future. Moreover, it is aimed at solving problems of ecology, environmental protection, sustainable development and climate change management," Le Denf emphasized.