PROMINENT MOLDOVAN LAWYERS INSIST ON CONSTITUTIONAL JURISDICTION REFORM
21 may, 2020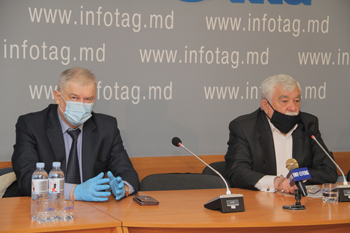 An initiative group of former Constitutional Court Judges and prominent legal experts is insisting that the Moldovan constitutional jurisdiction vitally needs a thorough reform.

Former Constitutional Court Chairman Victor Puscas stated at a news conference in Infotag on Wednesday that the chief objective of such a reform must be the organization of the Constitutional Court's work in a way to make it serve a balance beam, an equalizer between power branches and to meticulously follow the Constitution.

Puscas is convinced that the Constitutional Court must be securely protected from any political or other influence on it, and that the number of Judges [currently 6] should be raised to 7, so as to avoid an equality of votes, when three Judges can block the passing of a judgment.

Furthermore, he said, it is necessary to change the current procedure of appointing Judges by broadening the number of state institutions eligible to propose candidates for the posts.

Stanislav Pavlovschi, who represented the Republic of Moldova in the European Court for Human Rights for several years, and who is currently an Adviser to President Igor Dodon, believes that the main problem is the inefficient Moldovan legislation abounding in shortcomings and legal inconsistencies.

"For instance, presently each Member of Parliament is eligible to address to the Constitutional Court, which practice generates absurd situations. Our Parliament has 101 deputies and, accordingly, 101 opinions. And the Court decides on whose side the truth is", said the Presidential Adviser. Prominent Moldovan jurist Dr. Pavel Midrigan, Dean of the Department of International Relations at University of European Political and Economic Sciences, believes that the basis for achieving solutions must be the Declaration on the Captured State of June 2019, which recognized the usurpation of state power in Moldova by means of the [Plahotniuc-era] Prosecutor General's Office and the Constitutional Court, and the opinion of the Venice Commission, which condemned quite a number of Moldovan Constitutional Court Judgments.

The initiative group members stated that a solution in reforming the Constitutional Court could be the organization of an international scientific-practical conference, which would consider the possibility of amending constitutional provisions on the plenary powers of the Moldovan Constitutional Court.