DOCTOR OF LAW MIHAI CORJ BELIEVES EACH THIRD CONSTITUTION ARTICLE NEEDS REVISION
29 july, 2020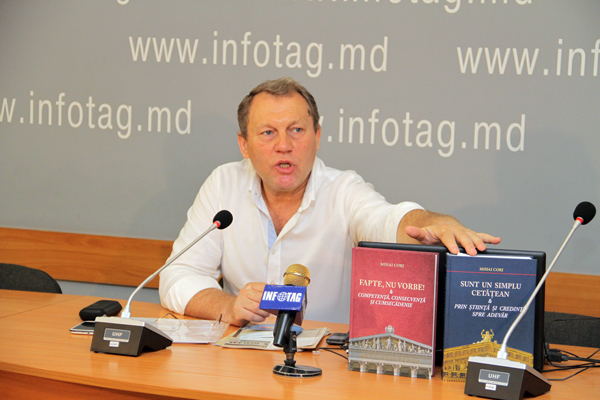 At least one-third of Articles in the Constitution of the Republic of Moldova need to be urgently revised, maintains Director of the Lex Scripta Institute of Lawmaking, Chairman of the Initiative Group for Constitution Revision Doctor of Law Mihai Corj.

He said at a news conference held in Infotag on Wednesday that although the Main Law says in its Preamble that this document reflects the will and aspirations of the people of Moldova, "this is but a beautiful phrase - not more than this".

"Like many of my colleagues from scientific and juridical circles, civil society activists and usual citizens, I have long ago arrived at a conclusion that the Constitution of Moldova - throughout its 26 years has been but a declarative document. Nevertheless, it has to be fulfilled. But over a quarter of a century, many of its Articles have lost their relevance", presumes the jurist. He explained that his initiative was preceded by numerous public debates with the participation of many interested persons and of even one of ex-Presidents of Moldova - Vladimir Voronin.

"Unfortunately, the voice of parliamentarians and politicians failed to be heard. But upon the whole we have determined the Articles requiring a resolute re-writing. Thus, it is obvious that the number of deputies sitting in the Moldovan Parliament ought to be reduced, say, to 71 from the current 101. The latter figure was determined over 30 years ago, when the Republic of Moldova had a population of 4.3 million people. Presently, even according to the most optimistic estimates, we have about 2.7 million. Therefore, it is necessary to reduce the number of the 'public servants'. As a minimum, this step will optimize Budget allocations for the Parliament funding which is really considerable", said Mihai Corj.

He also mentioned the need to ensure the President's real, not only formal, suspension of his party membership.

"This norm must really start working. May be this will require a tougher formulation in the Constitution, though this provision is present in the current Main Law. But this rule should be put in harmony with other relevant legal acts e.g. the Election Code", said the jurist.

On Wednesday, the bill was submitted for registration to the Ministry of Justice. The document yet needs to receive conclusions of the Constitutional Court and the Government.