19.10.2005 'TVARDITA CONFLICT' MIGHT SPILL OUT OF CONTROL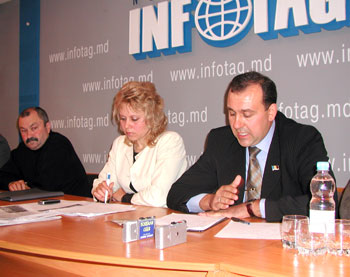 Chisinau, October 20 (Infotag). The meeting of Tvardita residents that will decide resignation of the local mayor and the possibility of separation from the Taraclia district, has been scheduled for October 25, Primar [Mayor] Andrei Pascalov told a news conference in Infotag Wednesday.
The core of the problem has been a discontent between the industrial cooperative Tvarditsa, the village authorities, and the residents of the local free enterprise zone, started after Andrei Pascalov was voted into power in 2003.
"In the course of several inspections we discovered numerous violations on the part of Petr Parlikov, CEO of Tvardita, including illegal use, free of charge, of 816 hectares of land from the Primaria reserve fund," Pascalov said.
"It is the desire of Parlikov to hold on to his office and to cover up his violations that has triggered this conflict."
In 2004 the Economic Court ruled in favour of Primaria and obliged the Cooperative to pay 250,000 lei in rent.
"Owing to this decision we have managed to attain a surplus budget gathering additional revenue of over 350,000 lei. This year we expect to generate from the land rent another 145,000 lei, a stark contrast to the previously receivable 19,000 lei," Deputy Primar Maria Pascova added.
Pascalov reckons the initiative by the Tvarditsa leadership to hold the referendum is aimed at destabilizing the political and economic situation in the region.
"They're trying to attach a political flavor to the purely economic issue; chances are that the villagers might support Parlikov even if it's against the law," said the Mayor.