SEVENTH THEATER SCHOOL INTERNATIONAL FESTIVAL TO BE HELD IN CHISINAU
28 april, 2017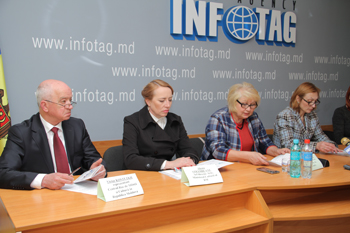 At the beginning of May, Chisinau will host the 7th International Festival of Theater and Film Schools Classfest.
Festival coordinator, dean of the Academy of Music, Theater and Fine Arts (AMTAP) theater faculty Svetlana Tirtau said at the Friday's news conference at Infotag that representatives of eight theaters from Armenia, Belarus, Georgia, Germany, Russia, Romania and Ukraine, as well as actors from Poland and Hungary will participate in the festival. Special guests will be theatrical company from the Russian State Institute of Performing Arts (Saint Petersburg) headed by Sergey Bizgu, original from Moldova, as well as guests from four best Romanian theaters, among which representatives of Caragiale Theatrical University from Bucharest.
According to AMTAP President Victoria Melnic, Moldovan young actors will get the opportunity to get a priceless experience from foreign colleagues and share their own experience.
Director of the German Cultural Center Akzente Corina Garla said that the theatrical company from the city of Passau will also participate in the festival.
Svetlana Tirtau said that the innovation of the festival will be the jury made of pedagogues-stage managers.
"Each of them will have to choose the performance they liked the most, except the one they directed. Three best plays will be awarded with special prizes.
Chisinau theaters Eugen Ionesco, Ginta Latina, I.L.Caragiale, Licurici, Luceafarul, Mihai Eminescu and Chekhov Theater will host festival performances on May 1-6.
The opening ceremony will take place on May 1 at 18:00 in Eugene Ionesco Theater.