UNIVERSITIES WANT AUTONOMY AS IN EUROPEAN COUNTRIES
10 octomber, 2014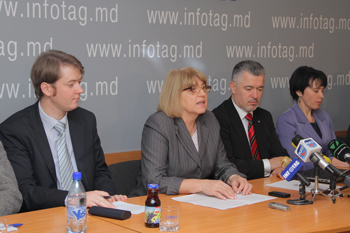 Eight Moldovan universities have united their efforts to strengthen their autonomy, learning from the experience of European countries. For this purpose, the project TEMPUS "Enhancing University Autonomy in Moldova (EUniAM)", financed by the European Union, is being carried out in Moldova in 2012-2015.
The national project coordinator, Vice-President of Moldovan Technical University Larisa Bugaian said at the Friday press conference at Infotag that within the project a number of seminars have been organized, internal communication platform has been developed and four reports about situation in university autonomy in Moldova have been prepared.
Also five study visits to partner-universities from the EU for share experience in the field of university autonomy.
Coordinator of the project, professor from Aalborg University (Denmark) Romeo Turcan emphasized that one of the project goals is to raise awareness about the mission of university in the modern community.
"A university should participate in scientific research, and the process of teaching should be based on it. Also, it is important that university to participate in full in country's economic and social development by means of knowledge dissemination", said Turcan.
Press conference participants said that university autonomy currently has four aspects: organizational, financial, personnel and academic.
Answering the question about how the university autonomy will influence teachers' salary, first Deputy President of the Economic Studies Academy Ala Cotelnic said that "each university, in accordance with its capabilities, will be able to stimulate academic staff. Each university has different revenues, which depend on the institution's specification, practices and research activity, performed by teachers".
She also mentioned that this also depends on possibilities of each university to attract as much financial resources as possible.
John Reilly, Professor from Kent University (Great Britain) said that the project corresponds to the movement towards the EU, connected to modernization and reforming universities, which aims to satisfy necessities of today and tomorrow.
"The project will allow Moldova to assess and analyze what happens in the EU and choose elements, which correspond to Moldovan higher education system", said Reilly.
Infotag's dossier: The project budget is worth 1.12 million euros, 1 million of which were provided by the TEMPUS Program, while the rest of money is the co-financing of Moldovan universities.