MOLDOVAN PSYCHIATRIST ADVOCATES FOR LIFTING BAN ON USE OF CANNABIS FOR MEDICAL PURPOSES
04 april, 2017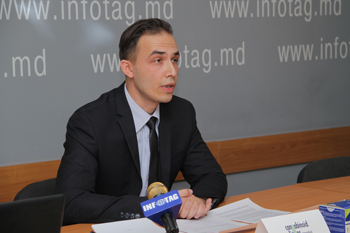 Moldovan psychiatrist, physiologist, member of International Association for Cannabis Medicine, Stanislav Grosu advocates for the deletion of cannabis from the first table of classification of narcotic drugs, psychotropic substances and precursors.
He said on Monday's press conference that today in Moldova cannabis and THC are placed in the first table, which forbids their use for medical purposes.
According to him, clinical studies, which have been conducted for 50 years, have proved the therapeutic value of cannabis; moreover, many countries have adjusted their legislations. A number of Moldovan medical and research institutions recognize the medical properties of cannabis, and several international organizations are ready to provide support to Moldova to revise the ban.
"Drug based on cannabis are prescribed to patients suffering from cancer, multiple sclerosis, neuropathic pain, severe cases of epilepsy and many other diseases. Up to 10% of patients in Moldova are in need of medicines based on cannabis, however, they cannot legally purchase and use them", said the doctor.
Grosu reported that the negative attitude to cannabis in society occurs because of the association with smoking, but there are many ways of using cannabis that do not involve burning.
However, the doctor stated that cannabis as many other medicines has adverse effects such a overdose and psychosis, but these side effects may be caused by other drugs which are permitted in Moldova.
The psychiatrist drew attention to the fact that in 2012, surgeon, MP Vladimir Hotineanu published the book "Medical plants", where he mentioned the medical use of cannabis. In 2013, MP Gheorghe Brega proposed a bill authorizing the use of this plant in medicine; however, his initiative was not supported.
Stanislav Grosu said that he will send a report on cannabis in medicine to the Ministry of Health, to further study this topic, with a subsequent revision of the cannabis classification.
I'm Sandra Valerie from England, I was diagnosed with lung cancer 6 months ago, I was worried looking for a cure. I got in touch with Rick Simpson's email at ricksimpsoncancercure41@gmail.com which I bought 60 grams of cannabis oil, and 3 days later the oil was delivered to my home address. I took the prescribed dosage from Rick Simpson. Within 14 days I have seen some changes and I contact him again, He advised me to continue for 8 weeks as he has prescribed, I did it until about 7 weeks. I contacted my Doctor for a test, I was surprised to hear my doctor say I'm cancer free now. All thanks to God and Rick Simpson, who cured my lung cancer with cannabis oil. Contact Rick Simpson at ricksimpsoncancercure41@gmail.com Regards, Sandra Valerie