LEGISLATIVE FRAMEWORK TO PROTECT RIGHTS OF PEOPLE WITH AUTISM TO BE CREATED IN MOLDOVA
26 april, 2017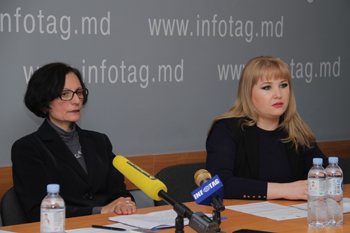 Moldova will create a legislative framework to protect rights of people with autism, their social integration, to facilitate their access to services and specialized care. The legislative framework is developed in the framework of the project "Social integration of children and adolescents suffering from autism in Moldova" by the social association SOS Autism.
Project manager Alla Pinzari stated at Tuesday's press conference that with the support of the US Agency for International Development (USAID) and Family Health International (FHI) for two years, they managed to develop a strategic document on the socialization of people with autism.
"The Moldovan Government included this document in the action plan of the National program for human health for 2017-2020", she said.
Alla Pinzari also said that they managed to raise awareness about the disease and tolerance toward people with autism. Before the beginning of the project in 2015, SOS Autism made a survey which showed that only 52% of respondents knew about autism, and two years later this number increased to 87%.
SOS Autism Director Aliona Dumitras said that they have conducted a series of workshop for parents of children with autism, round table discussions and national conferences on this topic.
She also reported that there is a problem in Moldova with the access of children with autism to needed therapies. There are just two centers which provide the necessary services and they are in Chisinau only, that is why parents from raions have to move to the capital.
According to experts, there are 366 people with autism in Moldova, while the World Health Organization states annual growth of 14% in the number of children with autism.
Infotag's dossier: Autism is a developmental disorder of the brain characterized by severe deficit in social interaction and communication. A person with autism has difficulty with perception of information; he may not adequately respond to sudden sounds and other stimuli. Very often a person with autism is prone to repetition of certain actions.